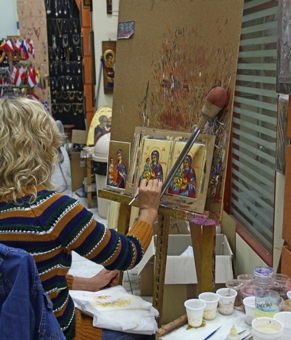 What You Should Know before Taking Icon Painting Workshops
The art of icon painting is an ancient craft, but there are still numerous icon painting classes available today. If you are willing to grasp all the mysteries of this celestial art, keep reading to learn several important things about icon painting workshops.
Icon Painting Workshops: Things to Know
Those who begin to study the techniques of icon creation must first understand the sacred nature of this craft, its highest purpose, and its close connection with the life of the Church. Before becoming familiar with the painting techniques, materials, and methods of their application during icon painting workshops, one should remember that icon painting is not just another form of art – it is the holy art of the Church and God Himself.
Every religious artwork, especially icon, represents a book of faith. With the help of the language of lines and colors, it reveals the dogmatic, moral, and liturgical teachings of the Church.
Most workshops of icon painting teach that an icon is, first of all, a sacred object. According to the rule of the Church, the face depicted in the icon receives a name through the inscription. This way, a holy image is assimilated to the one who is portrayed in it; it goes back to their prototype and becomes a partaker of their grace. Therefore, a novice iconographer must be imbued with reverence for icon painting art and recognize it as a holy cause from the very beginning.
Before joining icon painting workshops, it is also necessary to have respect for those who have worked hard in this matter over the long centuries, developed the visual language of the icon, and created its high, truly ecclesiastical style. The Holy Apostle and Evangelist Luke comes first among them; he is also considered the author of the first icon of the Blessed Virgin Mary.
The aspiring icon painter can learn only from masterpieces of the past. The ancient icon is in contact with the other, divine world that is not visible to us. For eight centuries, the Church of Christ – or rather its iconographers – have been working on the development of the artistic form of the icon. Thanks to them, modern icon painting workshops, including those offered by the Prosopon School of Iconology, help students learn iconography through copying antique images.
Finally, keep in mind that the study of icon painting art requires not only the careful preparation of your artistic skills but also the growth of your spiritual qualities and faith.