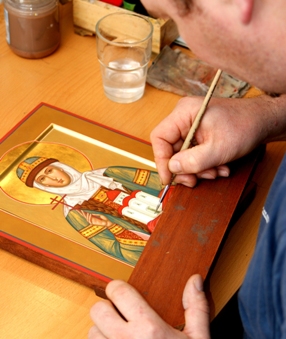 Our Advice for Iconographers on Taking Icon Painting Classes
Icons are the images holding a sacred significance. Hence, iconography primarily implies an act of faith expression. And although there are myriads of faithful people wishing to obtain decent icon painting skills, an unbeliever will most likely not be able to paint religious artworks the way they should be. Still, there is a wide choice of centers and schools providing icon painting classes.
Iconography has an ancient, rich history that stretches back to the creation of the first holy image of the Mother of God, which was painted by the Apostle Luke. This beautiful art was possibly conceived even earlier – from the moment when the Savior imprinted His face on the canvas in order to heal King Abgar V asking for His grace. Later, these first celestial art pieces would become the basis for the formation and development of the Russian icon.
In the modern world, if you seek becoming an icon painter, you can take icon painting classes. There are both online and offline workshops of icon painting available today in different countries around the globe.
Prerequisites
What are the primary requirements for the believers wishing to become professional iconographers? First, to complete the course of sacred images creation, one must enlist the blessing of the spiritual father. Another vital issue is the selection of the iconography course, which some people might find difficult. Thus, a particular center of icon painting may oblige a student to take a catechism exam and a creative challenge. In any case, some experience in art can come in handy, but successful creation of a divine artwork is almost impossible without a strong faith. It is also essential for iconographers to observe the schedule of church services, holidays, and fasts while attending icon painting classes.
Where to study?
Where can one study iconographic art? Nowadays, any interested believer is open to a variety of options, including familial icon painting workshops and schools at the monasteries and temples. Usually, icon painting classes are divided into several courses, and students can choose the right one for them.
Experienced, certified icon painters traditionally conduct the teaching. Classes are built on a unique program that combines theoretical and practical courses, gradually opening the depth of ancient religious art to the students. After graduation, aspiring icon painters who wanted to master their iconographic skills are able to navigate through Christian celestial art of different centuries.