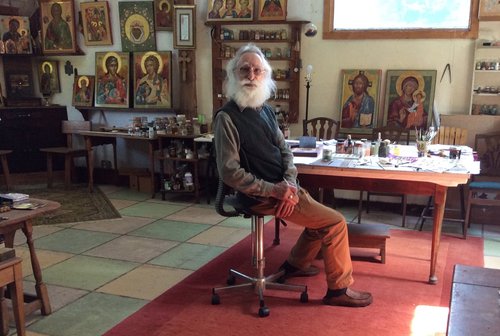 Icon Painting Workshops at the Prosopon School of Iconology
With the growing demand for exquisite religious artworks, and Russian icons in particular, icon painting workshops have also become quite popular. As we know from the history of holy images, there were numerous iconographic schools. Today, one of the most known is the Prosopon School of Iconology.
The Prosopon School of Iconology is a unique school of religious art with a specific method of teaching the subject. "Prosopon" is the term borrowed from the Greek theology, which in the iconological sense means "the image of God." Today, this center of icon painting continues and creatively develops the ancient tradition of Byzantine-Russian style of iconography, following the canon of masters of the Novgorod and Moscow schools of the 14th-16th centuries. For more than twenty years of the school's existence, hundreds of students from Russia, Europe, the USA, and Canada got acquainted with the practical method of "Orthodox theology in colors," having received initial, average, or profound training in the Russian icon painting. Currently, permanently operating studios organized by the school's masters exist in the United States and the Russian Federation. Today's interest in the celestial art pieces and their origins has opened up an important area of the school's activity – regular classes and seminars.
The main training method of the Prosopon School of Iconology consists of practical and theoretical parts, containing an explanation of the meaning of each step. It allows comprehending the icon as an art of symbolic realism inextricably and deeply connected with the Orthodox theology and anthropology. In the practical part, the symbolism of each stage of icon creation is explained in detail during the icon painting classes, which makes it possible for the iconographers to embrace their Christian path as the way of God's actions.
The Prosopon School of Iconology is guided by the centuries-old experience of masters of the past. The complete process of the icon creation in this school's tradition includes 21 practical steps or 21 workshops of icon painting. At the final stage, students are engaged in contemplation, the purpose of which is to summarize the experience of the previous steps and to understand to what extent the created sacred image corresponds to its prototype.
The school's commitment to the iconographic canon, as well as its liturgical and aesthetic principles, allows it to preserve the symbolic language of tradition in the modern Russian icon painting and to create authentic, new divine works.
Photo credit: The Prosopon School of Iconology/prosoponschool.org