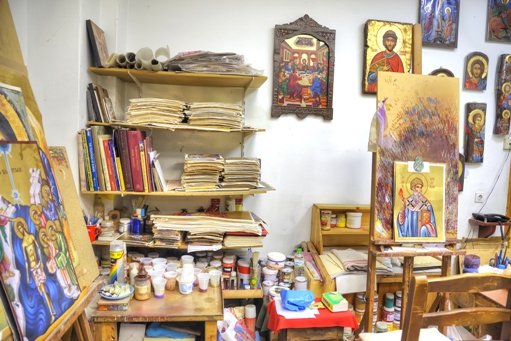 Things to Know about the Icon Painting Workshop
Over thousands of years, iconography has developed a special concept of beauty, in many ways different from the one familiar to most ordinary people. Ascetic faces, large serious eyes, elongated bodies – in celestial painting, spiritual beauty is higher than the beauty of the body. Spirituality attracts the attention of millions of connoisseurs of canonical Russian icon painting all over the world. And there is one special place where these divine images are created according to all traditions – the icon painting workshop.
Things to know about the icon painting workshop
In recent years, there has been a rapid return to the traditions of Orthodoxy. As a result, a deep interest in the Church and Christian values has grown significantly as well. For a spiritual person and a true believer, an icon is one of the means of comprehending the truth. Moreover, despite a great selection of ready-made icons present on the market, the majority of faithful people tend to order a one-of-a-kind handmade image. In this case, the icon painting workshop is the best place to go.
One of the most crucial things to remember is that all workshops of icon painting should be under the patronage of a certain church. Masters create holy images not only for religious institutions, but for parishioners as well. Most often, any interested collector or a righteous person can purchase the following Orthodox images in one of the icon painting workshops:
Orthodox wedding icons;
icons depicting heavenly patrons;
family icons;
other icon on request.
Icon painters honor the ancient iconographic traditions. When creating a holy image, there is nothing unimportant and secondary. The iconographer always learns the sufficient details about the customer or the history of a particular family, key events, and important dates.
The masters of any icon painting workshop strive to follow not only the old canons of iconographic art but also the ancient technology of icon creation. Only high-quality materials are used, which allows the religious painting to be passed through generations. Among them are top-quality varnishes and paints, boards and gold leaf. The boards are made of wood dried during the year naturally. Natural adhesives of animal origin or gelatin substitute are used for the primers for celestial paintings. Paints are made based on egg tempera from hand-ground minerals.
It is also important to note that only a true master can create an icon. Besides, they must lead a pure, pious life. Only in this way, the master will be able to convey, through divine grace, line, and color, the images of Jesus Christ, the Blessed Mother, and the venerated saints.