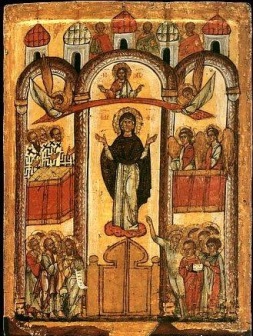 Feast and Orthodox Icons of the Intercession of the Theotokos
The Christian Church has always glorified the Mother of God as the Defender and Protectress of people. Her aid has been clearly shown numerous times to peoples and individuals, in crowded cities and monastic deserts, in war and peace. It is no wonder that even though there is very little known about the Virgin Mary's life, she is still considered the most perfect human. Moreover, the Mother of God is the most beloved saint in the Christian Church, with her many Orthodox icons venerated all over the world, especially in Russia, Ukraine, and Belarus.
Yesterday, on October 14, the Russian Orthodox Church celebrated one of the most important feasts of the Most Holy Mother of God – The Intercession of the Theotokos. This significant event commemorates the miracle that happened in the year 911 when the Mother of God appeared above the people gathered at the Blachernae church in Constantinople, surrounded by saints and angels, with a veil spread over all faithful Christians as a protection against visible and invisible enemies. It is interesting that the first person who saw the Most Holy Mother of God moving in the air and entering the church was St. Andrew the Fool-for-Christ, whose feast is celebrated today, on October 15.
Orthodox Icons of the Intercession of the Theotokos
The miracle happened in 911 is depicted in many antique and modern religious icons; however, you won't find this scene in Byzantine images. The best examples of the Orthodox icons depicting this important event are Ukrainian and Russian icons where the Virgin Mary is usually shown surrounded by a bright aureole of light, with the angels, apostles, St. Nicholas of Myra, John the Baptist, and some other saints around her. She holds a small veil symbolizing the protection of the Christian people (see photo above). According to the iconographic tradition, St. Andrew the Fool-for-Christ is often depicted standing below the Mother of God, with his hand pointing upwards at her.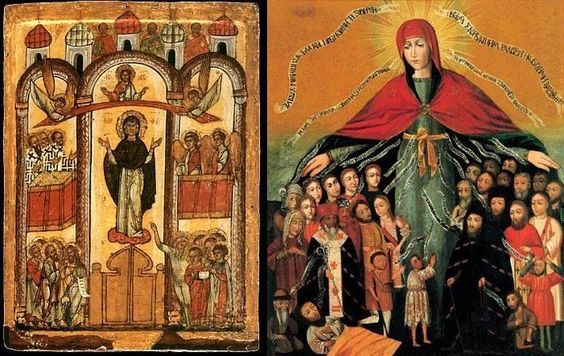 It is also worth noting that while most Russian religious icons depict the Most Holy Mother of God holding the veil in her outstretched hands, there are also no less interesting versions of the Orthodox icons of the Intercession of the Theotokos, depicting two angels holding the veil and even Mary covering people with a large cloak, which is reminiscent of the well-known image of the Virgin of Mercy that can be found in Western European culture.