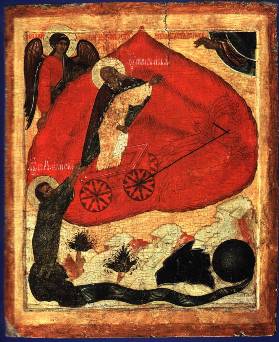 The Fiery Ascent of the Prophet Elijah Icon
The Prophet Elijah is a famous Christian saint who gained popularity back in the Middle Ages. It was Elijah who was attributed various miracles of the pagan gods, such as the ability to command lightning or thunder. In the Orthodox tradition, he is distinguished by a great deal of attention in the Old Testament and detailed visualization in the icons. Besides those famous stories concerning the Prophet Elijah, such as the experience of the divine in the cave at Mount Horeb, his ascent to the heavens in a fiery chariot is another important scene in the Old Testament. The Prophet Elijah icon shows this religious event in a symbolic manner.
The description of the Prophet Elijah icon of the Fiery Ascent
Russian iconography of this type appeared in the 14th century. The Prophet Elijah icon depicting the great ascension to the heavens was especially popular among the believers in the northern areas of medieval Rus, who prayed before it for the protection of cattle feed and healing. The center image of the icon shows Elijah ascended in a fiery chariot. Since Old-Russian times, a fiery halo around the chariot of Elijah has been an obligatory element of the iconography of this type. The figure of the Archangel Michael raising a cloud of fire in the sky has become indispensable as well, even though this scene has actually never been mentioned in any of the relevant texts. The Archangel Michael may be presented here as a psychopomp, which means a guide to the afterworld. In Russia, the image of Elijah himself is sometimes also viewed as such.
It should be noted that the shape of a fiery "cloud," a figure of Elijah stretched out in all his height, raising his hand to the heavenly segment, a massive figure of an angel, and the pose of Elisha (Elijah's successor), who is grabbing the floors of his cloak, represent a well-established iconographic image.
The meaning of the icon
The popularity of the Prophet Elijah icon depicting the Fiery Ascension is due to its symbolism of the Old Testament prototype of the Ascension of Christ and the Mother of God. The content of the composition is also related to the idea of the Second Coming, the Last Judgment, the salvation of the righteous, and the coming resurrection in the flesh.
The Prophet Elijah is one of the greatest of the prophets in Christianity, Islam, and Judaism, so it is no wonder that his icons are highly venerated around the world.