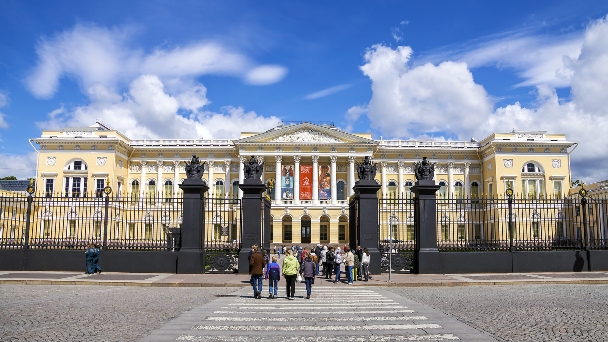 The Diversity of Museum Icons at the State Russian Museum
The State Russian Museum located in the historical center of St. Petersburg is the largest museum of Russian art in the world. Besides a realm of fine art masterpieces of different genres, styles, and periods, the collection of this important cultural institution features an impressive number of old Russian icons. Despite the eternal debate over where the holy images should be stored, in museums or churches, the State Russian Museum amazes with its significant gathering of museum icons.
Alongside such outstanding art museums as the State Tretyakov Gallery and the State Historical Museum in Moscow, the Russian Museum holds one of the leading positions due to its collection of Russian icon painting art. The latter contains over 5,000 museum icons executed in the 12th – early 20th centuries.
The appearance of the valuable collection took place in the late 1800s when the Museum opened its doors to the visitors. Among the first sacred items that started the collection were precious antique icons from the Saint Petersburg Academy of Arts. Those pieces of religious art came from the personal collections of the respectable Russian historians and collectors – Mikhail Petrovich Pogodin and Pavel Fyodorovich Karabanov. In addition, the Russian Museum received an extensive series of museum icons, crucifixes, and diptychs confiscated from the old worship houses.
Although this cultural institution is regarded as one of the most remarkable museums of Russian icons, it also houses plenty of Greek icons transported from the Mount Athos into its possession. Moreover, in the early 1910s, the State Russian Museum obtained a broad set of divine images that previously belonged to the well-known Soviet historian and art critic Nikolay Petrovich Likhachyov. This acquisition totaled about 1,500 icons. The Museum also keeps a host of celestial art pieces removed from numerous monasteries destroyed during the Russian Revolution of 1905 and the Great Patriotic War. Thus, due to the tireless work of the Museum's staff, Saint Petersburg is now home to a highly valuable art collection, one of the best in the world.
The prevailing number of holy items presented at the Museum are icons created by icon painters from the major art centers of Ancient Russia, as well as works by provincial iconographers. The most ancient piece of museum icons is the famous "Angel with Golden Hair" created in the 12th – 13th centuries. Sacred paintings from the iconostasis of the Dormition Cathedral in Vladimir executed by the legendary icon painter Andrei Rublev are also exhibited at the State Russian Museum. Thanks to such variety of precious religious artworks in the Museum's collection, visitors can now learn about the most momentous events from the Russian icons history.