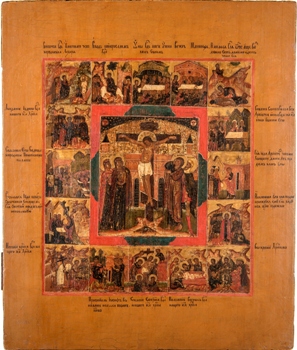 The Crucifixion Icon: Iconography & Meaning
The Crucifixion icon is one of the most significant Eastern Orthodox icons depicting Jesus Christ. Not only is it beautiful, but it bears a deep meaning, constantly reminding us of Christ's sacrifice on the Cross, an important for all Christian believers event that took place at Golgotha nearly two thousand years ago.
As you probably know, the crucifixion was a common method of capital punishment among the Romans, and Jesus Christ was the most famous victim of the crucifixion. According to the four canonical Gospels, Christ was stripped of his clothing and nailed to the cross, where he hung in agony for six hours before he died. This monumental event, which is closely linked with the Resurrection of Christ, is depicted in the Crucifixion icon. Moreover, quite often, the Crucifixion of Christ is shown both in the earthly and heavenly realms.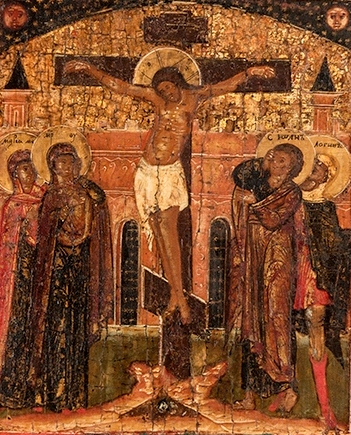 The traditional Crucifixion icon is a hand-painted icon with the scene of Jesus Christ's Crucifixion in the center of the composition. Christ is usually surrounded by the Blessed Virgin Mary, Mary Magdalene, St. John the Apostle, Longinos the Centurion, and several other onlookers. All the figures depicted in the Crucifixion icon show emotions associated with grief, but nothing suggests sound. Their mouths are not open, and the icon holds silence. Christ Himself is depicted with His eyes closed and His head bowed as if showing His last minutes of life on earth.
The composition of the Crucifixion icon also often includes an open cave with the skull and bones of Adam right at the bottom of the Cross. According to the legend, Adam's bones, which had been buried under Golgotha by the descendants of Noah, appeared on the surface at the moment of Christ's death due to a great earthquake that split apart the rocks. Christ's blood flowed down from the Cross and on to Adam's bones, bringing the redemption to the First Man and the whole human race.
The centerpiece of the Crucifixion icon can be surrounded by certain border scenes. These may include The Entry into Jerusalem, The Last Supper, The Betrayal of Judas, The Bringing of Christ before Pilate, The Descent from the Cross, The Entombment of Christ, and several other important scenes showing Jesus Christ's last days and burial.
The Crucifixion icon is indeed one of the most significant Eastern Orthodox icons. Depicting Christ stretched out on the Cross, with His blood flowing down, it is a clear symbol of the redemption that reaches all who have died.