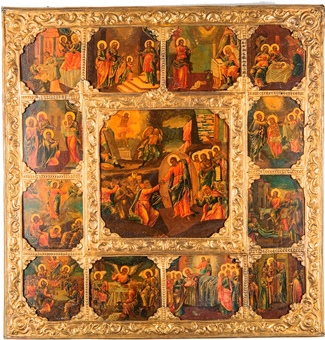 Antique Russian Icons of the Resurrection of Christ
This year, Orthodox Easter or Paskha was celebrated on April 8. This important event marking the resurrection of Jesus Christ from the dead is the greatest of all holy days in the liturgical calendar, so it is no wonder that it is often called the "feast of feasts." It is needless to say that the scene of the Resurrection of Christ, which was initially described in the New Testament, is one of the most popular in Christian art, and it is definitely the most popular in Russian icon art. If you look through our catalog of antique Russian icons, you will find many exceptional examples dedicated to this significant event, so it won't be superfluous to tell you more about the iconography of the Resurrection of Christ.
Antique Russian icons of the Resurrection
First of all, it is important to note that it is pretty hard to find Byzantine Orthodox icons and antique Russian icons depicting the very moment of the Resurrection. Most of them belong to the specific iconographic type known as "The Resurrection – The Harrowing of Hades," which shows Christ standing on the gates of Hades or hell and helping souls imprisoned there get free. It is this iconographic type of the Resurrection that is considered canonical in the Eastern Orthodox Church, and there is a very simple reason for that. The fact is that this scene reflects the traditional Christian teaching on Christ's victory over death and His triumphant descent into Hades to raise the dead and deliver saved souls from hell where they were trapped before His resurrection.
However, it is impossible not to mention that while most antique Russian icons belong to "The Resurrection – The Harrowing of Hades" iconographic type, there are many modern religious icons depicting Jesus Christ emerging from the tomb and appearing before His disciples. This scene was borrowed from Western art and is not traditional for Orthodox Christian icons. Along with that, for the sake of justice, it should be noted that antique Russian icons with a similar depiction of the Resurrection also exist, but they are quite rare and not as popular as more common "The Resurrection – The Harrowing of Hades" icons.
Anyway, whether it comes to antique Russian icons with the traditional scene of the Resurrection of Christ or modern religious icons of other iconographic types, each of them is important and can become a worthy addition to your home iconostasis or collection of religious icon art. After all, the Resurrection of Christ is the most significant event in the entire Christian world.