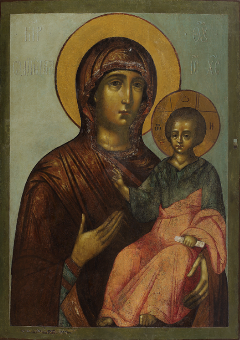 The Museum of Russian Icon Unveils Its Plans for 2018
The renowned Moscow's Museum of Russian Icon has recently announced its expansion plans that include building of a new exhibition center. As reported, it will be placed between Volkhonka Street and the Great Stone Bridge spanning Moscow River at the western end of the Moscow Kremlin.
The new exhibition center is expected to become a somewhat cultural center dedicated to all types of international projects related to Russian icons, including future collaborative programs between the Museum of Russian Icon and private collectors of religious icons from all over the world. Plus, it will serve as a gallery for Museum's own collection of Orthodox Christian art. However, while these new ambitious plans of the Museum of Russian Icon have already been put on the table, the final decision largely depends on the Moscow regional authorities and may take some time.
Meanwhile, the Museum of Russian Icon and its founder Mikhail Abramov do not stay still, planning new exhibitions at the Museum's current location at Goncharnaya Street. In particular, they have announced that a famous Rostov Russian icon "John the Baptist, with Church Feasts" will be available for public view for the first time, starting from the middle of December. This important event organized together with the Rostov Kremlin State Museum will start a whole new series of upcoming exhibitions, titled "Masterpieces of Russian iconographic schools in collections of Russian museums."
Among other plans for 2018 is one more unique exhibition of Russian icons, titled "Icon. Copy. Imitation. Forgery." Dedicated to the problem of forgery and the difference between such terms as "imitation" and "copy," the announced exhibition will take the form of a discussion, with the involvement of reputable specialists in Russian icon art.
As for the current exhibitions of the Moscow's Museum of Russian Icon, they feature a variety of religious icon paintings, sculpture, textile, and other artifacts from different regions and epochs so that every visitor is sure to find something to his or her liking. Among the highlights are "The Virgin Hodegetria" (1675–1678), which is the last found antique icon signed by Simon Ushakov (see photo above), the "Miracle of St. George and the Dragon" painted in Rostov in the 14th century, and the Byzantine icon of Our Lady of Glycophylus painted in the 15th century. Each of them, as well as all other Orthodox Christian icons exhibited at the Museum of Russian Icon, is definitely worth seeing!
Photo credit: Museum of Russian Icon/russikona.ru