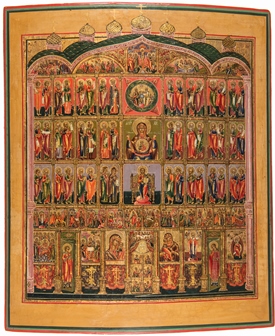 Introducing the First Collaborative Project with the Museum of Russian Icon
Russian Icon is proud to present the first collaborative project between our team and the Museum of Russian Icon, the largest in Russia private museum of the Orthodox Christian Art. The best Russian icon experts and art historians together with the private collectors spent two years researching and writing the exhaustive book about some of the most outstanding examples of Russian icon art with the only aim – to acquaint the world with a unique collection of antique Russian icons brought together during the course of several decades. Now you have a one-of-a-kind opportunity to look inside the amazing world of the first-class antique Russian icons of the 18th – 19th centuries!
The book represents a collection of authentic hand-painted icons of museum quality that were created in the most important iconographic centers of the Russian Empire, famous for their recognizable artistic style and mastery. Each of the icons included in this book was carefully studied and described by the reputable museum specialists proficient in antique Russian icons, so we can assure you that all the information gathered is truthful, complete, and correct.
The highlight of this fantastic collection is a wide range of antique icons depicting the Resurrection – The Harrowing of Hades, which were hugely popular among all Russian social classes. Most of these icons were created by Palekh iconographers in their distinctive "miniature" painting style, with highly ornamented and decorated architectural shapes. Our book also includes beautiful examples of the yearly Menaion icons painted in a very refined, detailed manner to show as many feasts and saints as possible. Such hand-painted Orthodox icons are quite rare, which makes them very popular among both Christian believers and collectors of antique icons.
Among other jewels presented in our unique book are museum-quality Russian icons of saints, each with skillfully painted complex hagiographical border scenes. Besides, this collection won't be complete without some of the best icons of the Mother of God, in particular the icons of the Feodorovskaya Mother of God and the Tikhvin Mother of God, both painted in the iconographic centers of the Vladimir region in the 19th century.
The mentioned examples are only a few of those antique Russian icons that can be found in our book. Just let us know if you are interested in it, and we will be happy to send you a copy of our work that we are very proud of.