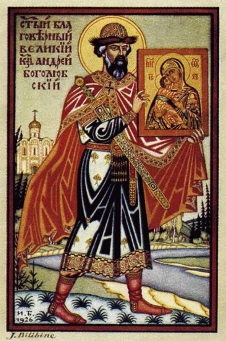 Icon of Andrei Bogolyubsky: History and Description
Andrei Bogolyubsky is revered as the founder of church architecture and the advocate for the Christian faith. Icon with his image is one of the most worshipped icons in Russia, which is often used for praying for a wise and merciful ruler.
The life of the righteous Russian Prince is closely connected with the history of the acquisition of the Bogolyubsky Icon of the Mother of God. Historical reports indicate that when transporting this deeply venerated example of Russian icon art, horses suddenly stopped near the city of Vladimir. The animals could not move, and Andrei had a vision. The Blessed Virgin herself appeared to the Prince and commanded him to leave her holy image here and tell people about the miracle that had happened.
Andrei Bogolyubsky was the son of Yuri Dolgorukiy and the Grand Prince of Vladimir-Suzdal. From childhood, he was distinguished by a strong love for the Lord and did not miss a single church service. The Prince was truly merciful. He helped the poor and treated the needs of each person with compassion and understanding.
During his reign, Russia was torn apart by the violent civil strife and war. Principalities were disintegrating; many were killed fighting for power. However, the pious Prince put all his strength to stop the shedding of blood on the land of Vladimir. With God's help, Andrei strengthened his realm. The Grand Prince was close to death more than once but miraculously avoided it. Andrei Bogolyubsky had a surprisingly rare gift of peacemaking, a sober mind, tolerance, mercy, and fearlessness.
Numerous feats in the name of Christianity are attributed to Andrei Bogolyubsky. The Prince built plenty of magnificent temples, one of which is the Uspensky cathedral. Thanks to his efforts, such Orthodox holidays as the Feasts of the Savior and the Intercession of the Theotokos were established.
Killed by his allies, the Grand Prince died from numerous wounds with a prayer on his lips. According to the legend, he met his death as a gift of the Lord, even though it was painful. The righteous ruler was canonized in July 1702.
Description of the Andrei Bogolyubsky icon
This sacred piece of Eastern Orthodox icons is executed by following all established canons in the natural and traditional styles of icon painting. The religious painting of the 18th-19th century depicts Andrei Bogolyubsky in princely clothes of that time. On some variations of the icon, the Prince's head is covered. In his right hand, the Grand Prince of Vladimir-Suzdal holds a cross, in his left – a sword or a temple. Sometimes, the pious ruler is portrayed praying.