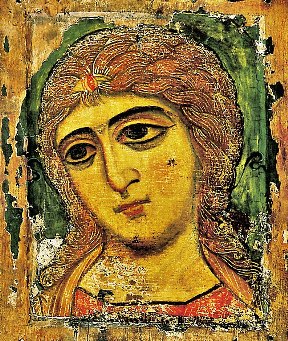 Eminent Icons of Russia: Images of the Savior, Angels & Apostles
Many of the renowned icons of Russia have been protecting the Russian land from enemy conquests and helping the faithful for centuries. The Russian icon is one of the highest recognized achievements of the human spirit. In the household of a true Orthodox believer, such sacred paintings always occupy a prominent place. Some of them are widely revered throughout Russia and beyond.
Famous icons of Russia: The Zvenigorod Deesis
The Zvenigorod Deesis is called after the place of its discovery. All three icons were found by the restorers under a pile of firewood in a barn at the Assumption Cathedral in Zvenigorod in 1918. After the discovery of this shrine, the search for the missing pieces was undertaken, but without success. The Zvenigorod Deesis was created in the early 15th century, and it is now kept in the State Tretyakov Gallery in Moscow.
The Zvenigorod Deesis consists of three large divine images depicting Jesus Christ, the Holy Archangel Michael, and St. Paul the Apostle. The Savior, gentle and human, the Archangel Michael portrayed with subtle lyricism, and Saint Paul, deep in his thoughts – all of them are depicted soulful, exalted, and flawless.
At the beginning of the 20th century, these old Russian icons were attributed to Andrei Rublev. However, in June 2017, the expert council of the State Tretyakov Gallery announced that the author of the images was another, unknown master.
Famous icons of Russia: Golden Hair Angel
"Golden Hair Angel" (pictured) is the oldest celestial painting from the collection of the State Russian Museum in Saint Petersburg. Most experts in icon studies believe it belongs to the Novgorod school of icon painting. The shrine was found in 1864 and immediately transferred to the Rumyantsev Museum. It is considered that this religious artwork by painted in the 17th century after Simon Ushakov.
"Golden Hair Angel" is one of the most exquisite examples of the icons of Russia. Interestingly, the talented unknown master depicted golden strands with the help of golden leaf while drawing the hair. Since antiquity, golden hair has served as a symbol of divine power. Russian iconographers learned this technique from the court artists of Constantinople. Gold leaf makes Archangel Michael's hair shine with heavenly light. In 1934, the icon was sent to the State Russian Museum, becoming the oldest item among holy images on display.