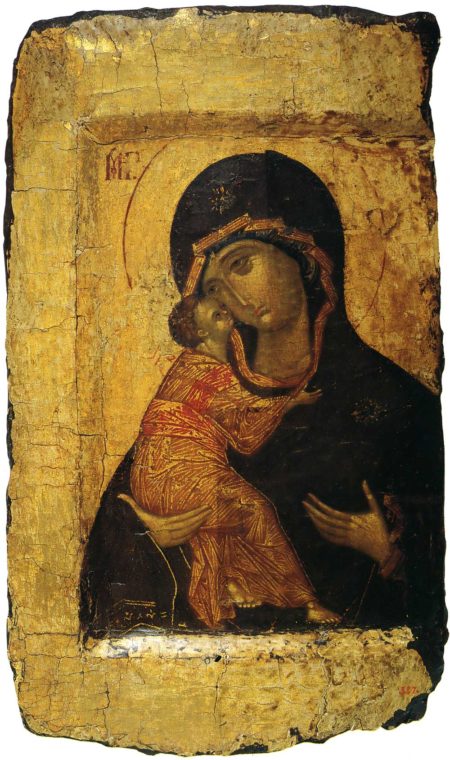 Top 3 Popular Andrei Rublev Icons
The figure of Andrei Rublev, the great master of iconography, is shrouded in mystery. There is little credible information about his life. It is known that he was born around 1360 in Veliky Novgorod. As a young man, Rublev became a monk at the Trinity-Sergius Monastery. He studied the philosophical writings of the progressive thinkers of the time, including those of the monastery's founder Sergius of Radonezh and his disciples. The master also often painted cathedrals, along with other prominent iconographers, such as Theophanes the Greek. Andrei Rublev icons are considered the highest achievement of the 15th century Moscow painting. In this blog post, we want to tell you more about three of his most famous icons.
Top 3 popular Andrei Rublev icons
1. Christ the Redeemer
This icon is part of the Zvenigorod tier presumably created by Andrei Rublev in 1410. The image is poorly preserved, but one can discern the focused face and deep and thoughtfully piercing gaze of Christ. The depicted features reflect a new stage in Rublev's painting, which marked the heyday of Russian iconography. Interestingly, the artist painted Christ's image in a Russian manner while most masters of his time worked according to Byzantine canons.
2. The Trinity
All Andrei Rublev icons are considered valuable shrines for the Orthodox Church. However, the master's best work is believed to be "The Trinity." Rublev created the icon to commemorate St. Sergius of Radonezh. It was intended for the Trinity Cathedral. The icon's subject is based on the Old Testament scene and depicts the visit of three angels to Abraham and Sarah's homestead. In the New Testament, the image of the three angels is perceived as the unity of the three entities of God – the Father, the Son, and the Holy Spirit. The icon perfectly combines complex theological content with compositional mastery. In the 20th century, the "Trinity" was recognized as Rublev's best work and a masterpiece of world iconography.
3. The Virgin of Vladimir
It is believed that Andrei Rublev painted the Virgin of Vladimir (pictured) around 1409, using an antique icon of the Mother of God as an example. Luke the Evangelist created the original image during the life of the Mother of God. This icon is highly revered in Orthodoxy and considered the protector of all Russia.
Andrei Rublev icons are popular and well known to every Orthodox Christian believer. In this blog post, we have covered only three works by this great iconographer, so stay with us to learn interesting facts about other religious icons too.