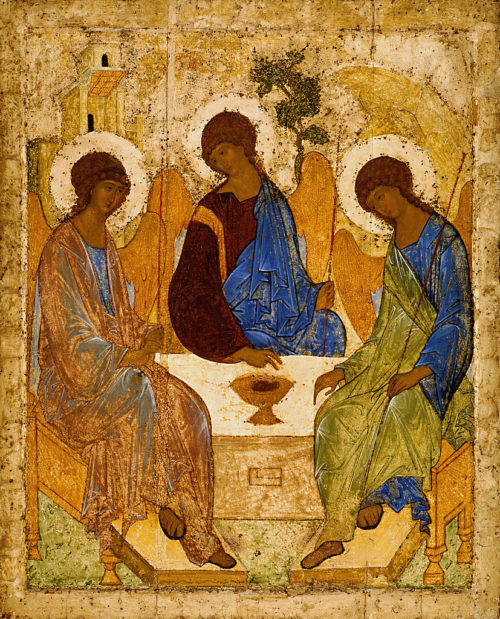 Interesting Facts About the Trinity Icon by Andrei Rublev
The names of most Orthodox iconographers who produced unique and highly revered today holy relics are unknown. Andrei Rublev, a genius iconographer who created many frescoes and religious icons, is a rare exception. The Trinity icon is considered Rublev's most significant work. It is an incredibly beautiful and symbolic composition depicting three angels (Father, Son, and the Holy Spirit). In this blog post, we have brought together some of the most interesting facts about this magnificent work.
Interesting facts about the Trinity icon by Andrei Rublev
The central angel is Jesus Christ
Three angels are sitting around a table in the center of the composition. Although Rublev did not sign the angel figures, some critics assume that the angel in the center embodies Jesus Christ. This is because this angel is dressed in robes with a clavus, which is a vertical band stretching from the shoulder to the very bottom of the robe. The garment symbolizes purity and perfection, as well as the Messiah's role, and so it represents Christ.
The idea of equality and unity
The Trinity icon by Andrei Rublev is the main shrine in the Trinity Cathedral founded by Saint Sergius of Radonezh. His key idea was the unification of the Russian lands. Rublev put the same message in the Trinity by inscribing the figures of the angels in one circle. The images symbolize inseparability and unity, and the closed circle is the protection of all mankind.
The cup is a symbol of the afterlife
The table, around which the angels sit, depicts a cup with the head of a sacrificial calf. In Christian tradition, the cup is an important symbol and iconographic attribute. This object symbolizes wisdom, fate, and sacrifice. Rublev's cup is the cup of the future life that will be received by Christ after His sacrifice on the cross.
The background is also symbolic
While the foreground depicts three angels, the background features a tree, a mountain, and a tall building. Each detail is symbolic: the tree is the tree of life, the mountain refers us to the prototype of Mount Golgotha, and the building symbolizes the Christian church.
The Trinity icon by Andrei Rublev is a highly revered religious piece among Orthodox believers and is often placed next to an icon of Jesus Christ. People pray with the "Trinity" for the salvation of the soul, forgiveness of sins, and family happiness.