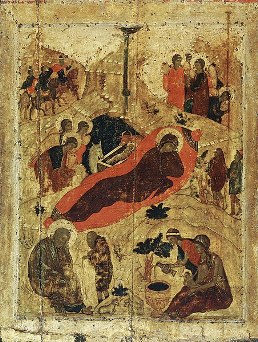 The Wonderful Story of the Nativity of Christ Icon
The Nativity of Christ icon is considered a masterpiece of Russian icon art, the divine power of which is felt by all faithful people. Today, the wonderworking painting created by the renowned iconographer Andrei Rublev, which vividly demonstrates the appearance of Jesus Christ, is listed among the best works of religious art in the entire world.
History of the Nativity of Christ Icon
According to the experts in icon painting, the execution of the Nativity icon depicting the birth of the Savior dates back to the beginning of the 15th century. Creating this beautiful piece of religious art, the master chose a linden wood board as the basis for the divine image. For this reason, the icon has been preserved in its authentic and almost undamaged state.
It is interesting that in the times of aggressive atheism, the icon was not damaged because the head of one of Novgorod museums secretly transfered it to the capital of Russia. Being in Moscow, it was hidden under a thin layer of paint, until one day, local restorers discovered it.
Iconography of the Nativity of Christ Icon
A few striking colors, including yellow and green shades, in combination with white tones were used as the basis of the icon to capture the birth of Jesus Christ. Such a mix of the natural colors allowed the miraculous image to look vibrant and genuine, depicting central figures in a more believable way.
In the center of this religious painting, you can see the Mother of God leaning on her left forearm, with a manger of the infant Christ behind her back. As for the upper part of the icon, there are angels gathered to celebrate the birth of the Son of God. Rublev also placed two handmaidens in the lower part of the image, who are, in line with the Gospels, engaged in the bathing of a newborn baby.
Right beside the manger, you can see the heads of an ox and a donkey peeking out. These are believed to be symbolic signs of the Nativity of Christ icon, portraying the nationalities of numerous believers who received salvation from the Son of God, namely Jewish people and the Gentiles.
Thus, the icon depicting the magical moment of the Savior's appearance tells us the well-known biblical story of the birth of Jesus and Christmas Day, the most beloved holiday celebrated worldwide.