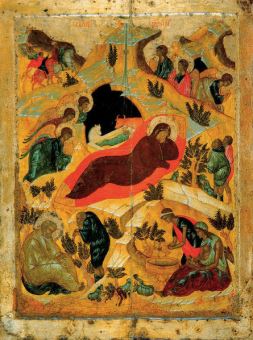 Orthodox Icon of the Nativity: Meaning & Symbolism
Today, Orthodox Christian believers celebrate the Great Feast of the Nativity of Christ, one of the most joyful days of the liturgical year. This story is beautifully told in the Holy Scriptures and no less beautifully depicted in the religious icon paintings. In our previous articles, we already wrote about them, but let's take a closer look at their meaning and symbolism. After all, the Orthodox icon of the Nativity is among the most important ones, showing us how God became human to die for our salvation.
First of all, it is worth noting that the traditional form of the Orthodox icon of the Nativity of Christ, with few variations, dates from the early 15th century when it was first painted by Andrei Rublev. This renowned antique icon is now kept in the Cathedral of the Annunciation in Moscow Kremlin. However, the story depicted in the Orthodox icon of the Nativity is still based on the ancient narratives on the life of the Mother of God, the New Testament Gospel accounts, and the Old Testament prophecies as well, with many symbols included in its iconography. So what are the most important elements of the Orthodox icon of the Nativity, and what do they mean?
Star. The star depicted right above the Christ in the Orthodox icon of the Nativity, sometimes with three rays that stand for the Holy Trinity, is a sign that God came for everyone.
Mother of God. The Mother of God is the most dominant figure in the Orthodox icon of the Nativity, depicted lying on a red blanket that signifies the color of life.
Jesse Tree. The Jesse Tree, which can be found next to the Virgin Mary, comes from the Old Testament prophecy that includes events leading up to the birth of Jesus.
Joseph. The holy and righteous Joseph is depicted in Eastern Orthodox icons of the Nativity away from the Mother of God and Jesus, as he was not involved in the miracle of the Incarnation of Christ.
Angels. Angels depicted in the Orthodox icon of the Nativity give glory to God and announce the birth of Jesus Christ to all mankind.
In general, the Nativity icons are some of the most important Orthodox Christian icons, depicting the very moment when God became like us. They are indeed full of symbols, which makes these religious icons even more significant and meaningful.
Happy Orthodox Christmas to all who celebrate this Great Feast today!