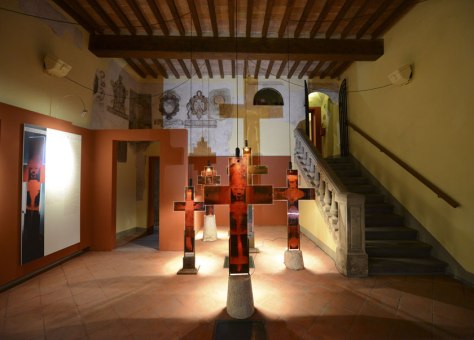 The Russian Icon Museum in Peccioli, Italy
You already know about the Museum of Russian Icon in Moscow, the Museum of Russian Icons in Clinton, MA, and several other museums that hold important collections of Russian icon art. But have you ever heard of the Russian Icon Museum in Peccioli, Italy? If not, you should definitely learn more about this amazing place located in one of the most beautiful towns in Italy! This museum is actually part of another museum, The Pretorian Palace Museum, which is housed in a medieval palace distinguished by its impressive facade with the coats of arms of the families that ruled Peccioli centuries ago.
Museums in Peccioli
As it has been already said, the Italian town of Peccioli, which is located in the Province of Pisa, is one of the most beautiful towns in the country. It is also a popular tourist destination due to its outstanding architecture and the large museum complex managed by the Foundation Peccioliper. This complex includes the Bell Tower built by Luigi Bellincioni in 1885, the Sacred Art Museum that houses the most significant paintings of the 12th – 13th centuries in the region, the Archaeological Museum that holds artifacts discovered at the Etruscan archaeological site of Ortaglia, and the mentioned above Pretorian Palace Museum that offers a fantastic blend of medieval history and contemporary art.
The Russian Icon Museum
The rooms of the Pretorian Palace Museum are also home to the first Italian Russian Icon Museum that was inaugurated in 2000. The museum appeared due to Francesco Bigazzi who donated his collection of sixty Russian icons to the Municipality of Peccioli. Bigazzi is an Italian journalist and writer who spent many years working as a foreign correspondent in Moscow and collecting valuable Russian icons painted in the 19th – early 20th century.
Over the years, the Russian Icon Museum in Peccioli has become a place of antique icon restoration, conservation, and exhibition, featuring approximately 200 items on display. These include antique icons of the Moscow, Kazan, and Kiev iconographic schools, the mentioned above icons from the Bigazzi Collection, and also icons from the Maria Clelia Loppi Collection that includes rare examples of the 18th– and 19th-century hand-painted icons depicting the Mother of God, feasts, and saints. The Russian Icon Museum in Peccioli continues to grow thanks to new donations and careful purchases that add value to its beautiful collection. At Russian Icon, we highly recommend that you visit this amazing Italian museum of Russian icons at your first opportunity!
Photo credit: The Foundation Peccioliper/fondarte.peccioli.net