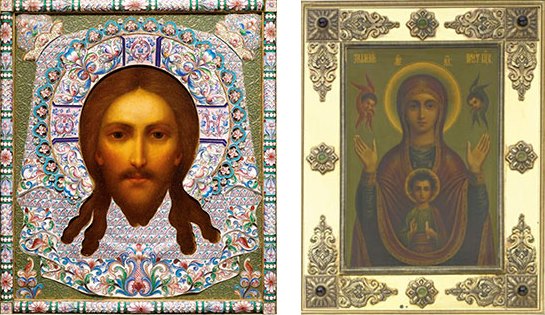 The Museum of Russian Icons in Clinton, MA
Although numerous US museums have significant collections of Russian visual art, the Museum of Russian Icons in Clinton, MA is truly a special one. The fact is that while other museums specialize in Russian art and artifacts on the whole, the Clinton museum is dedicated solely to antique Russian icons, which makes it the only one of its kind in North America and the largest one outside of Russia.
Initially incorporated by a plastics engineer Gordon B. Lankton in 2004, the Museum of Russian Icons was officially opened to the public in 2006. Since then, a whole complex of new spaces has emerged, including galleries, a research library, a tea room, a terrace with a green roof, and also facilities accommodating concerts and lectures. For today, the Museum of Russian Icons in Clinton houses more than 1,000 antique Russian icons and related religious artifacts created in the period from the 15th century to the 19th century. In addition, the Museum has unique examples of modern religious icons painted in the last few years.
Current and upcoming exhibitions of Russian icons
Two Imperial Icons
This exhibition features two antique Russian icons created as extravagant wedding gifts for Grand Duchess Maria Pavlovna of Russia, who married Prince Wilhelm of Sweden, Duke of Södermanland in 1908. The first one, the Icon of the Savior also known as the Image Not-Made-By-Hands, was created by Kurliukov in the pan-Slavic style and presented from the Moscow Merchants' Association. The second antique icon is the Feodorovskaya Mother of God by Fabergé, which was presented from the St. Petersburg Nobility Assembly. The exhibition of these important Imperial icons is on view through May 14, 2017.
Holy Fools to Wonder Workers
The "Holy Fools to Wonder Workers" exhibition presents a collection of thirty antique Russian icons of saints, which are not usually displayed to the public. It features religious icon paintings of both the most venerated Orthodox saints, such as Old Testament Prophets, and the less known Russian monastics. Some of the greatest examples are the Saint George icon, the St. Nicholas icon, the Saint Mary of Egypt icon, and the Simeon the Stylite icon. The exhibition is on view through February 26, 2017.
Pondering Mary: Her Life through Icons
The "Pondering Mary" is an upcoming exhibition that will run from March 11 through May 21, 2017. It will explore the life of the Blessed Virgin Mary as portrayed in the Eastern Orthodox icons, including her role in salvation and relationship with her Son, Jesus.
It is also worth noting that in addition to exhibiting and collecting antique icons, the Museum of Russian Icons also serves as a center for research and scholarship, not to mention that it offers a range of interactive educational programs. Therefore, once you are in Clinton, MA, take a moment and visit this fantastic museum of Russian icons and religious artifacts! Keep in mind that it is closed on Mondays!
Photo credit: Museum of Russian Icons/museumofrussianicons.org