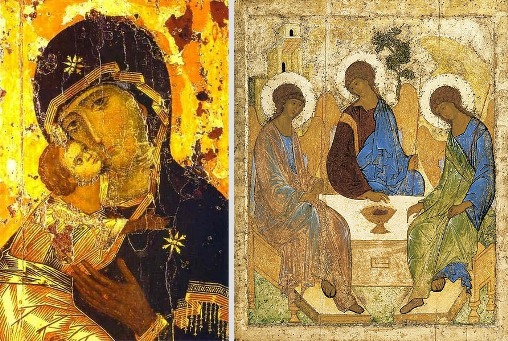 The Russian Icon: Interesting Facts You Might Not Know
A Russian icon is no less than a unique cultural and artistic phenomenon. There are plentiful outstanding examples of old Russian icons, as well as a lot of fascinating facts related to these holy images. Today, we would like to share some interesting information about the Russian icon and tell you more about "Our Lady Of Vladimir" and "The Trinity" icons.
"Our Lady Of Vladimir"
"Our Lady Of Vladimir" is, perhaps, the most revered icon in Orthodox faith, which is dated to the 11th-12th centuries. According to the legend, the original image of this type was created by Saint Luke the Evangelist on a wooden board taken from the table that was used by Christ, Mary, and Joseph when they gathered for a meal.
The Russian icon: Facts about "Our Lady Of Vladimir"
In 1185, an intense fire engulfed the Assumption Cathedral in Vladimir where the shrine had been kept for a long time. Yet, "Our Lady of Vladimir" miraculously was not destroyed. It also remained intact after the destruction of the city by Batu Khan in 1237.
According to another legend, during the procession that accompanied the transfer of the sacred icon from Vladimir to Moscow, the Turco-Mongol conqueror Timur had a vision in his dream, which forced him to retreat; the Blessed Virgin herself told him to leave Russia.
Scholarly icon studies resulted in another curious discovery. On the reverse side of the icon, there is another image – the hetoimasia, or the empty throne, on which Jesus Christ will sit during His second coming. There is an assumption that this religious painting was initially two-sided.
"The Trinity"
The brilliant artist and iconographer Andrei Rublev created a plethora of beautiful frescoes and icons. One of the most divine artworks by the icon painter is a miraculous image known as "The Trinity." In this sacred icon, Rublev wanted to show the sacrifice of divine love.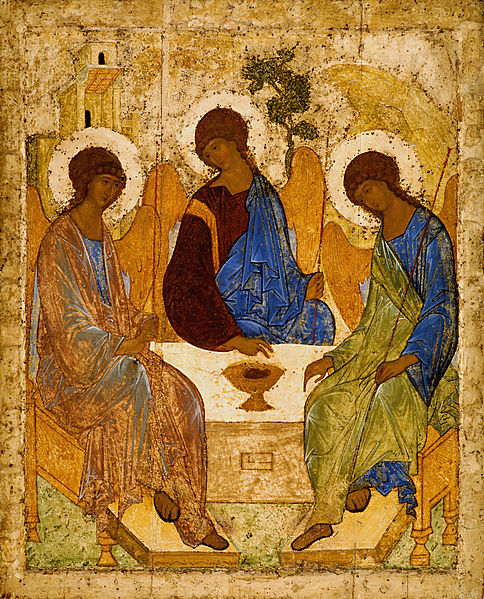 The Russian icon: Facts about "The Trinity"
The cup depicted in "The Trinity" is its main attribute that symbolizes the suffering to which the Messiah subjected Himself for the benefit of all humankind. The head of the calf represents the sacrifice He offered. Each figure depicted in the celestial image holds a scepter, a symbol of power. Behind them, we see the Tree of Life.
The building tells us about the Christian Church as the most important house of the Holy Spirit. The mountain, in its turn, represents the prototype of the notorious Mount Calvary.
The Russian icon of the New Testament Trinity type is traditionally performed according to a particular circular scheme. The circle in any religion means eternity, death, and rebirth. In case of this divine image, the meaning of the triunity is added, while the angels themselves form the circle.