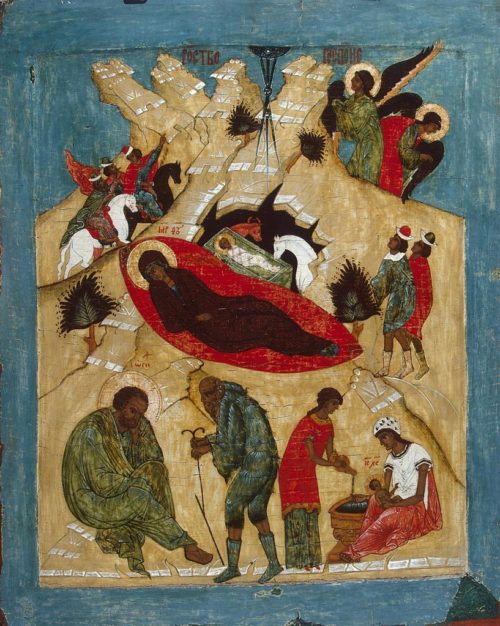 The Nativity Icon: Hidden Concepts
Religious icons are much more than just colorful pictures depicting certain events. They render the inner meanings and concepts of biblical stories, which makes these holy items truly symbolic. The Nativity icon is no exception since it is full of mysteries and hidden ideas with theological depth. The miracle of Jesus' birth is beautifully revealed in the Gospel story that has long been the basis of the festive iconography.
The description of the Nativity icon
The figure of the Mother of God is placed at the very center of the icon. She is resting on a bright scarlet robe, attired in a purple mantle. A cave can be seen behind her back. There, in a manger and swaddling clothes lies the infant Christ. His head is surrounded by a halo with Greek letters meaning the word "Everlasting."
Supplementary scenes depicted around the central one include Joseph the Betrothed being tempted by the Devil, the Magi with the gifts, the angels and shepherds praising the Lord, and the washing of Christ. Such a composition is considered to be the canonical depiction of the Nativity in Orthodoxy.
Hidden concepts of the icon
1. The cave
The cave represents an array of symbolic concepts. First, it is an ascetic refuge and humility with which Christ took the form of a man and entered the earthly world. The cave can also be seen as a prototype of the mother's womb or the heart of a man, where God lives.
2. Christ's linen
The swaddling cloths in which the Christ Child is wrapped are His funerary wrappings. Thus, the Nativity icon reveals the symbol of the reunion of the beginning and the end of Christ's earthly life.
3. The ox and the ass
The ox and the ass, animals that also glorify the Son of God, are depicted near His manger. The ox is the symbol of the Jews who converted to Christianity, and the ass represents the Gentiles.
4. The Magi
The Magi in the icon symbolize the seeking of God. Besides, they represent the three ages of man. Their gifts also carry profound meanings: frankincense is a gift to God, myrrh is a gift to a man, and gold is a gift to a king.
5. The washing scene
The Nativity icon also features women washing a child. This scene symbolizes the baptism of Christ.
Overall, Orthodox icons of the Nativity are filled with light and joy. They represent the celebration of Christmas. However, at the same time, they also symbolize the coming sacrifice of the Son of God.