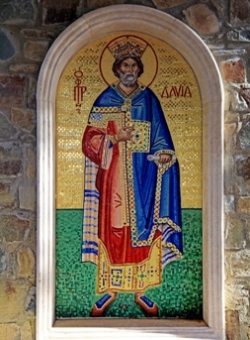 The Backstory and Variations of the King David Icon
Russian icon art often includes images of holy martyrs and virtuous people. One of such personas is King David. He was a truly legendary figure. Having become the king of the Israeli people at the age of 30, he wisely ruled the ancient Israel. His prudent reign and wise prophecies were documented and collected in the Book of Psalms. The prophet's personality has become an inspiration for the creation of different versions of the King David icon.
David was the last son of one of the Bethlehem elders. He was growing up kind and obedient, devoting his mind and soul to God. Fulfilling the prophecy, David led Israeli people and fought valiantly for the welfare of the kingdom that was entrusted to him. It was King David who founded Jerusalem, which was destined to become the place of Jesus Christ's birth.
However, like any ruler, he was subject to some of the human passions. One day, King David fell in love with his companion's wife. Seized with jealousy, he sent his friend to the battlefield, where he died, and married his widow. Soon enough, the king was overtaken by keen remorse for such a dishonorable act. It led to the creation of Psalm 50, which eventually became an essential part of numerous religious services. That is why the King David icon helps those seeking help in controlling their obsessions.
The King David Icon
Being one of the most revered icons of Russia, the first image of David dates back to 560-565 years. It was depicted in the altar mosaics of one of the churches of Saint Catherine's Monastery. It is a shoulder-length portrait of the prophet – a dark-haired, dark-eyed man with a barely noticeable stripe of mustache and beard. He is dressed in princely clothes of red, green, and golden shades. The king also wears a round medallion and a crown with a cross decorated with precious stones.
Among other variations of the King David icon are images of the prophet as a shepherd, the conqueror of Goliath, and a wise elder. The image of David, the king and the prophet, was especially widespread in the Russian icons, wall paintings, temple mosaics, and other religious artworks of the Christian world.
Despite the variety of interpretations, the King David icon has one distinctive feature – the image of the prophet is made with restraint; it emanates deep wisdom, the strength of spirit, and unwavering faith. If you wish to receive expert-level appraisal services or comprehensive advisory regarding exquisite religious art pieces, Russian Icon specialists will do their best to meet your demands.