The State Tretyakov Gallery to Open a New Exhibition of Antique Russian Icons
The Moscow's State Tretyakov Gallery in collaboration with the Republic of Tatarstan will open a new exhibition of paintings, manuscripts, and antique Russian icons from the 16th century, conceived as an exciting journey to the Ivan the Terrible-era.
Exhibition of antique Russian icons
As one of the largest art museums in Russia, the State Tretyakov Gallery is home to an incredible number of important Orthodox Christian icons, from the early examples of antique Russian icons from the 12th century to the rare hand-painted icons from the 19th century. However, the upcoming exhibition entitled "The Legend of the Town of Sviyazhsk" is expected to be exceptional. The fact is that it will include not only some of the most renowned 16th-century antique Russian icons and manuscripts from the Museum's collection but also one-of-a-kind iconostasis icons from the Sviyazhsk Assumption Cathedral and the ancient Trinity Church, which have no matches in terms of composition and completeness.
The island town of Sviyazhsk
Sviyazhsk is a small island town in the Republic of Tatarstan, Russia, founded as a military base by Ivan the Terrible in 1550. As the first Christian settlement in the region, Sviyazhsk is known for its ancient churches and cathedrals, many of which preserve unique works of religious icon art and other spiritual treasures. For example, the Holy Dormition Monastery keeps the relics of St. German, while the Assumption Cathedral has the world's only fresco of horse-headed St. Christopher. It is also worth noting that the latter was added to the UNESCO World Heritage List last year. Plus, Sviyazhsk is known for its ancient Trinity Church, the only surviving wooden church from the mid-16th century.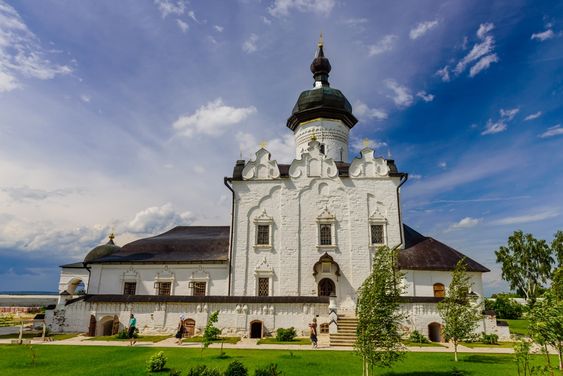 Antique Russian icons
As it has been already said, "The Legend of the Town of Sviyazhsk" exhibition will include iconostasis icons from the Assumption Cathedral and the Trinity Church, making it a must-visit event for all connoisseurs of ancient religious art. Among other important exhibits are liturgical artifacts, pictorial embroidery, and certainly antique Russian icons from the Tretyakov Gallery's collection, including one of the largest antique icons in existence, entitled "Blessed Be the Host of the King of Heaven (The Church Militant)," which commemorates the conquest of Kazan by Ivan the Terrible (see photo at the top of the post).
"The Legend of the Town of Sviyazhsk" exhibition will run at the Engineering Building of the Moscow's State Tretyakov Gallery from February 21 through May 20, 2018.