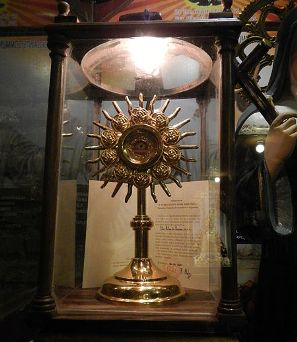 St Rita Relic: Wonderworking Remains of the Obedient Saint
Catholic reliquaries are mysterious artifacts containing divine power that can protect you from evil and eradicate any disease. The majority of these marvelous objects represent fragments of the remains of different saints, martyrs, and other highly revered figures. Such relics are called "ex ossibus" and can be found not only in the monasteries and in churches throughout the world but also online. Today, we will talk about Saint Rita of Cascia and her wonderworking remains known as St Rita relic.
Saint Rita of Cascia (Margherita Lotti) was born in 1371 in the city near Cascia in the mountainous region of Umbria. Her life, from birth to death, was full of wonders and incredible events. She was a welcome child to her parents who were no longer young when Rita was born. Her baptism took place in the Church of St. John the Baptist high in the mountains of Cascia.
When the future saint was a teenager, she witnessed a miracle, similar to what happened to St. Francis of Assisi. When she prayed in the Church of St. Mary Magdalene in Orvieto, Jesus Christ addressed her from the cross, saying that He was the Way, the Truth, and the Life. From that moment, Rita's most ardent desire was to join the monastery and serve the Son of God. That was the beginning of her challenging yet full of humbleness and faith life, which would turn St Rita relic in the sincerely worshipped religious object.
However, her parents, despite being very pious, had different plans for the future of their daughter. They even found her a fiancé. Rita could not disobey her family even though her husband was notorious for his bad temper. In this marriage, Rita gave birth to twin boys who were raised by their mother in the Christian spirit. Fifteen years later, her husband was killed, and their sons were involved in a bloody vendetta. Tearfully, Rita asked the Lord to save her sons from hatred and revenge, which would deprive them of hope for eternal salvation. That was when both of Rita's children fell ill with the plague and died before they stained their souls with the murder. Mourning her children, the orphaned mother decided to join the monastery.
Rita's monastic life was full of humility and obedience. By acts of charity, prayer, meek spirit, and prudence, Saint Rita won the love and respect of the sisters. One day, after preaching about the torments of Jesus Christ, she prayed to share the suffering with Messiah, and He marked her forehead with a holy wound from a crown of thorns. Rita bore this wound with love and patience for fifteen years, until the moment when, on 22 May 1447, she joined the Kingdom of Heaven.
Formal beatification of Saint Rita of Cascia took place only in 1627, and her canonization – in 1900, but Rita has always been one of the most beloved saints not only in Italy and Europe but also around the globe. Rita's veneration began immediately after her death. When she passed away, an endless stream of believers reached out to her body that miraculously remained imperishable. St Rita relic was put on display for worship in the monastery. The basilica named after this saint was built in 1937 and consecrated after the war in 1947. In this basilica, St Rita relic is kept to the present day.
Photo credit: Wikimedia Commons User Ramon FVelasquez / CC BY-SA 3.0