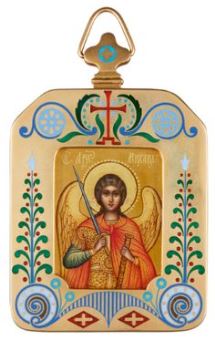 Russian Icons Auction Results from Sotheby's London
In this blog post, we want to remember the latest Sotheby's London sale dedicated to Russian icons and other important works of art from pre-revolutionary Russia and the Soviet Union, which was held on November 28. Taking into account that this year is coming to an end, these results are especially significant as they give an idea of what to expect in 2018. It is also worth noting that the Sotheby's Russian Works of Art, Faberge & Icons Sale was dedicated to the Centenary of the Russian Revolution, featuring many important lots from the period. As for Russian icons, there were several very interesting examples we want to tell you about.
1. Pendant icon of the Archangel Michael (1908-1917)
This small pendant icon (see photo above) depicting the Archangel Michael with a staff and a sword in his hands represents a perfect example of Russian religious icons of saints, painted in the early 20th century. Besides, it comes in a beautiful silver-gilt frame decorated with champlevé enamel. Estimated at $16,000 – 24,000, it was sold for $16,600.
2. Antique icon of the Archangel Michael "Voevoda" (17th century)
This antique icon attributed to Moscow or Stroganov School shows the cosmic battle between the Archangel Michael "Voevoda (Fearsome Power War-Leader)" on a red horse and the Devil, described in the last book of the Bible. It went under the hammer for $10,300 while being estimated at only $4,000 – 6,700.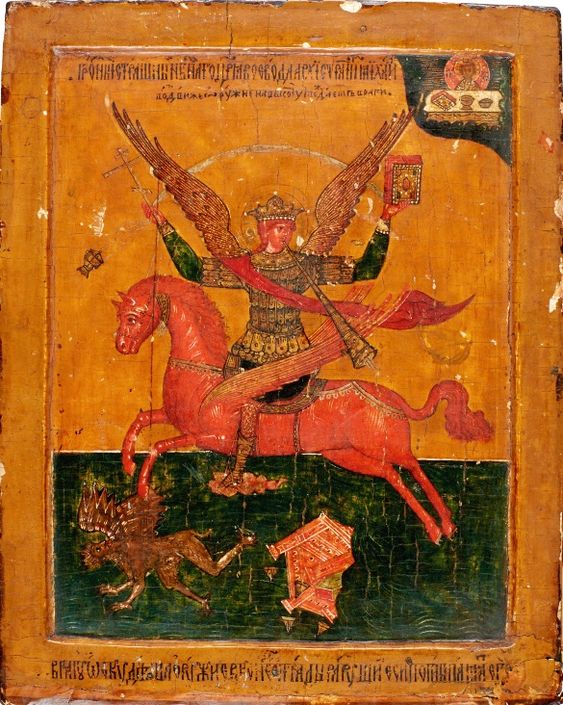 3. Russian icon of Christ and the Samaritan woman (early 20th century)
This beautiful Russian icon depicts the famous scene from the Gospel of John, telling a story of the Samaritan woman (St. Photine) who came to the well to draw water and met Jesus Christ. Estimated at $8,000 – 10,700, it was sold for $10,000, which is undoubtedly a good result for Russian icons of the period.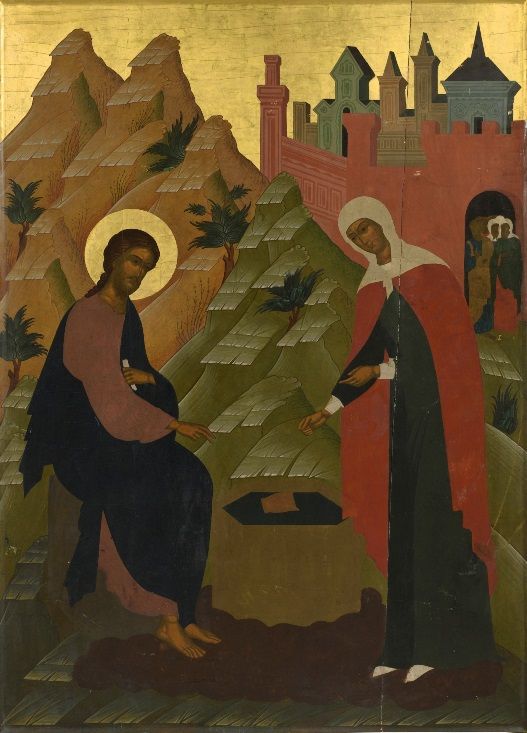 4. Icon of St. Symeon with Christ Child, St. Anna, and St. John the Evangelist (1882)
It is impossible not to mention one more example of Russian icons sold by Sotheby's in November. It depicts St. Symeon holding Christ Child, St. John the Evangelist, St. Anna, and also the monastic saints Peter and Fevronia. This parcel-gilt antique icon was estimated at $4,000 – 6,700 and went under the hammer for $4,300.
While these Russian icons are not the most expensive sold this year, they are still very valuable for both collectors and Orthodox Christian believers. Hopefully, the next year will bring even more interesting and important results!
Photo credit: Sotheby's/sothebys.com