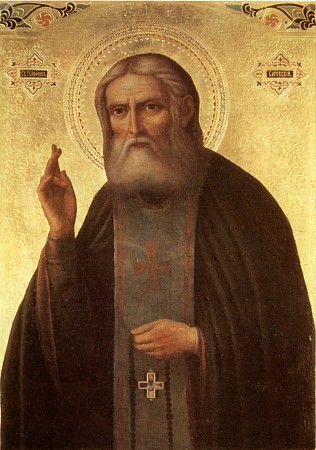 Russian Iconography of Seraphim of Sarov
Seraphim of Sarov was a Russian ascetic and monk, who is glorified by the Russian Church as a saint. He is highly revered in Russia, Ukraine, and other Orthodox countries. After spending 10 years in the wilderness, Seraphim of Sarov began helping the suffering and healing them. On some holidays, he had several thousand people visiting him. According to witnesses, the saint was always joyful, had the gift of public speaking, and could read the thoughts of the faithful. Russian iconography of the saint is versatile and reveals the facts of his life.
Russian iconography of Seraphim of Sarov
On January 15, the Orthodox Church commemorates Seraphim of Sarov. Many antique icons with his image were painted during the saint's lifetime, and therefore, they depict the scenes from his life and numerous miracles in a realistic way.
It is known that St. Seraphim of Sarov was deeply connected with nature and animals. The image of the saint feeding a bear in the woods is very popular. It is interesting that the figure of the animal is much smaller than the monk. According to critics, this size difference is symbolic and signifies the saint's divine gift. This technique is also used in other Russian Orthodox icons of Seraphim of Sarov.
Russian iconography with the scenes of the saint's death is notable as well. According to tradition, he died while praying with the icon of the Mother of God. The figure of the Mother of God (sometimes, it can be a figure of Jesus Christ) is considerably diminished and enclosed in a semicircle. The Mother of God and Seraphim of Sarov stretch out their hands to each other, signifying a sincere prayer and spiritual connection between them.
There is one fact from Seraphim's life, which testifies to this connection. As a child, Prokhor (secular name) became seriously ill. One night, the Blessed Virgin Mary appeared to him and said she could heal him. Later, an icon of Our Lady of the Sign was carried past the saint's house. After the boy venerated the icon, he began to recover and was soon healed.
Russian iconography of Seraphim of Sarov perfectly depicts his lifestyle. He is often shown as an elder, holding the rosary and praying. Besides, numerous icons of the saint represent him as an ascetic surrounded by animals and woods.
The faithful believe that the icons of this revered saint can heal mental and physical ailments and strengthen a person's faith and spirit.