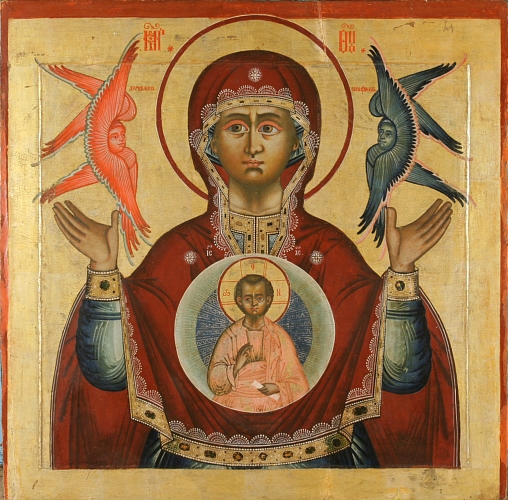 Antique Icon of Our Lady of the Sign: Interesting Facts
Orthodox icons of the Theotokos are some of the most revered shrines in the Christian Church. There are many Mother of God images depicting her with or without the Christ Child. One of them, the antique icon of Our Lady of the Sign, belongs to the Oranta type. Its feast day is celebrated by the Orthodox Church on December 10. Below you will find some interesting facts about this important religious icon.
Antique icon of Our Lady of the Sign: interesting facts
Oranta type
The icon of Our Lady of the Sign belongs to the Oranta iconographic type. This holy image is especially revered in the Russian Orthodox Church and is considered one of the oldest depictions of the Mother of God. Our Lady of the Sign, the Intercession of the Theotokos, the Ascension, and the Inexhaustible Chalice are just some of the examples depicting Oranta. The Theotokos here is shown with outstretched arms, palms outward. The main feature of this iconographic type is the majesty of the Mother of God. She appears as if interceding before God for the entire humankind. Typically, Christ Emmanuel is also depicted beside her.
History
The icon history goes back to the year 1170 when a miracle happened. At the time, numerous troops of Prince Andrei Bogolyubsky besieged Novgorod. All the faithful prayed for salvation day and night. One day, the archbishop of the Church of the Transfiguration heard a voice from heaven, telling people to go around the fortress with an icon of Our Lady. While they did so, one soldier fired an arrow at the shrine, and the antique icon began to tear. According to the legend, the troops left the city in terror.
Location
The icon of Our Lady of the Sign was long kept in the Novgorod Museum-Reserve. In 1991, it was transferred to the Saint Sophia Cathedral in Veliky Novgorod, where it has been preserved in a kiot in front of the iconostasis since then.
Meaning
The antique icon of Our Lady of the Sign symbolizes the protection of all the poor, suffering, and grieving. Mary's outstretched arms testify to the intercession and power of the Universal Church. As the Child Jesus is also often depicted, this image signifies the importance of motherhood and the vow that the Virgin Mary made to God.
The Orthodox faithful pray with this icon for the healing of various ailments, especially those related to the eyes. Besides, it is believed that the icon helps get rid of anxious thoughts and protects from evil, gossip, and enemies.