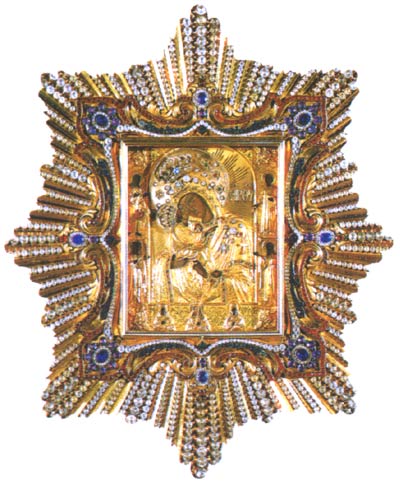 Religious Icon of the Pochayiv Mother of God
Icons of the Mother of God are among the most revered in the Orthodox Church. On August 5, the religious icon of the Pochayiv Mother of God, which is housed in the Holy Dormition Pochayiv Lavra in the Ternopil region, Ukraine, marks its feast day. This ancient and miraculous relic is closely associated with the monastery where it has been kept to this day. The icon is also revered by the Catholic Church. Read on to learn more about the history of this shrine and its iconographic features.
Religious icon and the Pochayiv Lavra
The Pochayiv icon of the Mother of God has been kept in the Pochayiv Lavra for about 400 years. Besides being the main shrine of the monastery, it is one of the most revered relics in the Ukrainian and Russian Orthodox churches. The miracles surrounding the icon have glorified it and the monastery throughout the world.
It is worth mentioning the legend that tells about the creation of the Pochaev Lavra. Long ago, two monks settled on the mountain where the Lavra is now located. While praying, one of them saw the Mother of God standing on a rock, with a very bright light coming from her. He called the other monk, and the latter also witnessed a miraculous apparition. The Virgin left an imprint of her foot on the stone, with a spring of clear water welling up over it. This footprint and the spring have been preserved to this day. The faithful now drink this water to heal their diseases.
The religious icon of the Pochayiv Mother of God appeared around 1559. It was brought from Constantinople by the metropolitan Neophyte. The brother of the noblewoman Anna Hoyska was healed by it, and she passed on the miraculous image to the monks. Later, they built a church on the mountain in honor of the Dormition of the Mother of God.
Iconographic features of the Pochayiv icon of the Mother of God
The antique icon of the Pochayiv Mother of God refers to the type of Eleusa. It is a half-length image depicting the Virgin Mary with the Christ Child. He sits on her right hand, covered by her cloak. Christ's right hand is traditionally raised in a gesture of blessing, and His left hand rests on Mary's shoulder.
Images of the Prophet Elijah, the Great Martyr Catherine, Irene, and other saints appear on the icon borders. The icon also features Greek inscriptions. Orthodox Christians pray in front of the Pochaev Mother of God for the strengthening of their faith and healing from physical and mental ailments and also ask the Theotokos to guide them on the right path.
The religious icon of the Pochayiv Mother of God is highly revered by Christian believers around the world. If you happen to be in Pochayiv, Ukraine, do not miss your chance to see the shrine with your own eyes!