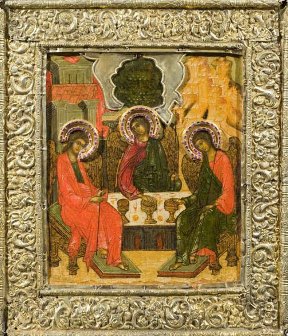 Praying with Holy Icons
How do you pray? Do you close your eyes or keep them open? Sadly, but many people today associate prayer with a somewhat session of sitting in silence and chanting old fashioned words. It has become more an activity of the head than of the soul. However, let's not forget that holy icons are physical objects. Moreover, they are beautiful objects that invite you to keep your eyes open when praying. After all, Orthodox Christian icons are not in vain considered "windows into heaven." Each of them serves as a bridge to Christ and reminds us of important events of our history. So don't close your eyes when praying. Keep them open and look into the heavenly realm to see God in all His glory!
What if you don't have religious icon paintings at home? Well, to find holy icons is challenging only in case you don't know where to look. Obviously, the first place to go is your local church. Most likely, you will find there a religious bookshop with Orthodox icons for sale. However, if you want to purchase something absolutely unique for your home, then it's better to look for hand-painted antique icons of museum quality, like those we offer at Russian Icon.
The next question is what icons to choose for your home. There is actually only one rule – always listen to your heart. It will tell you what holy icons to buy. If you still need advice, check our list of Eastern Orthodox icons that can enrich any home. Besides, let us give you one more recommendation. If you are buying your first icon, it should be an icon of Christ (for example, The Lord Almighty) or an icon of the Mother of God holding the infant Jesus in her arms. If you already have such icons, then opt for an icon of your patron saint. Anyway, always choose those that most appeal to your heart.
Once you have a religious icon, you should find the best place for it. This is where you need to create an icon corner, a special place for holy icons and other sacred objects. You can choose a bedroom, a dining room, a living room, or any other area of your home. The only rooms to avoid are the bathroom and the kitchen. After all, you don't want your icon to be damaged.
So, you have an icon or several of them and a beautiful icon corner, what's next? Lit a candle or a vigil lamp to provide ideal illumination and pray each time you want to be closer to God. It will not only help you establish a heart-to-heart relationship with Jesus Christ, the Mother of God, or your patron saint but also bind your family. Open your eyes, and you will see how special times of prayer can be.