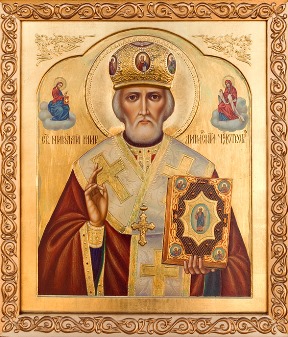 What Holy Icons to Choose for Home?
Although hand-painted Orthodox icons are undoubtedly beautiful pieces of religious icon art, they are primarily sacred images that serve as means of worshipping God and honoring His saints. Therefore, if you are choosing holy icons for your home, most likely you want to find peace for your soul, strength for your spirit, and well-being for your family rather than to simply decorate the place where you live. Anyway, no matter your intentions, you should clearly understand what religious icon paintings to look for. If you don't know where to start, consider the following tips from our Russian icon experts.
Please take into account that our list of Eastern Orthodox icons is not intended to be exhaustive. After all, holy icons are a very personal acquisition, so that when choosing the right one for your home, you should listen to your heart. If you still need some help, then consider the following religious icons that can enrich any icon corner:
Icon of Christ (many people give preference to The Lord Almighty);
Icon of the Mother of God (The Theotokos Eleusa or The Virgin Hodegetria);
Icon of Holy Apostles Peter and Paul;
St. Nicholas icon (protects in travel, as well as from want and poverty);
Our Lady of the Seven Sorrows (brings harmony, protects against the evil eye and from other peoples' jealousy, envy, and malice);
The Iver Mother of God (protects women, gives healing and consolation in the troubles of life);
Holy Trinity icon (one of the most famous Eastern Orthodox Church icons that symbolizes love, intelligence, and wisdom);
Our Lady of Kazan (another outstanding Russian icon that helps in everyday life and work);
Archangels Gabriel and Michael icon;
Icon of Saint Panteleimon the Great-Martyr (a saint for healing sickness);
Saint George icon (St. George the Victorious);
Icons of local saints (depending on where you live);
Icons of family patron saints;
The Unexpected Joy icon of the Mother of God (protects children, gives healing and family well-being);
The Inexhaustible Cup (brings prosperity to home, helps people suffering from drug and alcohol abuse or any other addiction);
Festal religious icons (for example, The Descent of the Holy Spirit or The Holy Resurrection of Jesus Christ);
Icon of Saints Peter and Fevronia (these saints are considered patrons of marital fidelity);
Icon of Blessed Matrona of Moscow (gives healing and family well-being);
St. Seraphim of Sarov icon (gives healing);
Theotokos The Helper in Childbirth (helps in childbirth).
As it has been already mentioned above, this list is not exhaustive and includes only the most popular holy icons purchased by Christian believers for their icon corners. Therefore, when choosing something special for your home, consider these tips, but acquire only those Eastern Orthodox icons that fit your spiritual needs most.