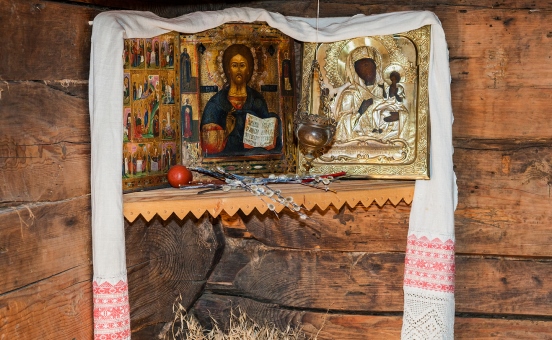 How to Create a Beautiful Russian Icon Corner?
No one will argue with the fact that the choice of Russian icons for the prayer is very important. Holy icons not only serve as "windows into heaven" but also shape our culture and foster a love for the beautiful. For this reason, it is good for all Orthodox Christian believers to have a special corner at home, in which religious icons can be placed. Such a corner is traditionally considered the spiritual heart of the home. Being an intersection between the family and our Lord with all His saints, it constantly reminds us to pray and trust in the wisdom of God. In other words, it is the place to which we turn when praying. So how to create a beautiful Russian icon corner at home so that it could bind the family in common prayer? Let's see!
Where to place your Russian icon corner?
It is believed that Christ's triumphant return to earth would come from the East so that, according to the tradition, Eastern Orthodox Church icons should be oriented towards the East and the rising sun.
How to display Russian religious icons?
The best place to display your Russian icons is on the wall-mounted shelves at eye level or a stand. For example, you can use a bookshelf or buy special hanging shelves that can be found in the religious icons store.
What to include in your Russian icon corner?
In fact, this is a question that every person must answer for themselves. However, there is still a list of the most important sacred objects to be included in the icon corner:
Holy icons of Jesus Christ and the Theotokos;
Religious icons of saints, with whom you have a special intercession relationship (your family patron saints);
Festal icons (icon of the Resurrection, religious icon of the Descent of the Holy Spirit, and others used to celebrate the Great Feasts);
Holy water that is usually used in rites of blessing, before a long journey, when somebody is sick, and so on;
Candles that you can light  in front of the holy icons during family prayers (these can be small votive candles or beeswax candles);
Incense and a censer that can also be used when praying at home;
Prayer lists that are used to make a list of those you want to pray for (church or family members, friends, those who are just married, who are sick, etc.);
Prayer books that can help you learn the Orthodox Church prayers and pray them at home.
This list of holy icons and objects is certainly not exhaustive. Thus, in addition to all of the above, you can include many other religious items in your icon corner; for example, crosses, reliquaries, blessed palm branches, and so on. Anyway, no matter what exactly you decide to include, your Russian icon corner will bring Christ's presence into your home.