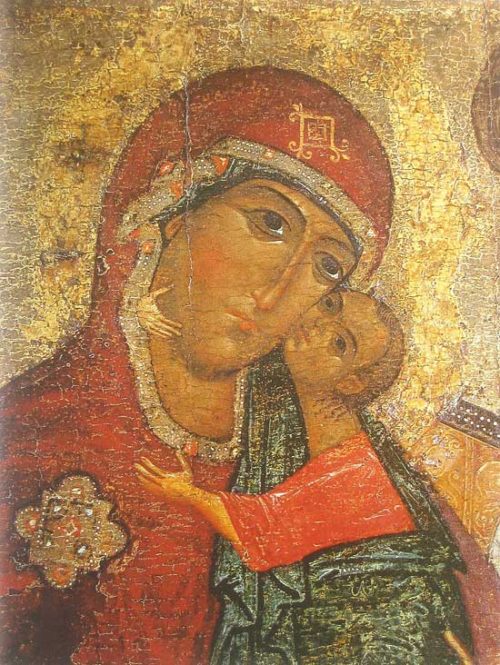 Our Lady of Tenderness, The Most Sensual Marian Image
The Orthodox tradition stands apart from other Christian confessions by a highly developed iconography. Along with multiple images of Jesus Christ, the iconography of the Blessed Virgin Mary is widely revered. The importance of the image of the Mother of Christ is partly related to folk traditions revealing the role of woman and mother in the world. Our Lady of Tenderness is rightly considered the most beautiful and sensual image of the Mother of God and the Infant Christ. Read more about its significance in this article.
The Most Holy Mother of God in Orthodox iconography
The first known images of the Theotokos date from around the 3rd-4th centuries. Many critics question the accuracy of the Virgin Mary's antique icons. However, it is known that in 431, after a meeting of Christian bishops in Ephesus, the iconography of the Virgin Mary began to develop at a rapid pace.
It should be realized that the icon of Mary, the mother of Christ, does not simply represent a holy woman. It symbolizes her spirituality through which the Holy Spirit descended upon her. There are many different images of Our Lady, divided conventionally into types, such as Oranta, Hodegetria, Eleusa, etc.
Our Lady of Tenderness icon
Our Lady of Tenderness icon, or Eleusa, is one of the main types of the Mother of God iconographic images. Some scholars believe that Eleusa appeared due to the Hodegetria type modifications.
The icon depicts the Virgin Mary holding the Christ Child in her arms. They are gently pressed against each other with their cheeks. The icon's composition is incredibly sensual and lyrical, expressing the mother's true love for her son and humanity. 
It can be said that Our Lady of Tenderness icon also reveals the symbols of profound sadness and suffering. Even though Christ is shown here as a child, He and the Virgin know what the future holds for Him. Through a touching composition, the iconographer conveys the image of Jesus Christ's sacrifice on the cross and His boundless love for people.
Interestingly, this iconographic type is also associated with the Venerable Seraphim of Sarov. This highly revered saint often prayed with this image of Our Lady. According to the legend, he passed away in prayer in front of the Eleusa icon. 
Among the Eleusa images are the Vladimir and Pochaev icons of the Blessed Virgin Mary. The former was brought from Constantinople to Vladimir in the 12th century. Most icons of the Mother of God are considered miraculous and capable of strengthening the Orthodox faith.