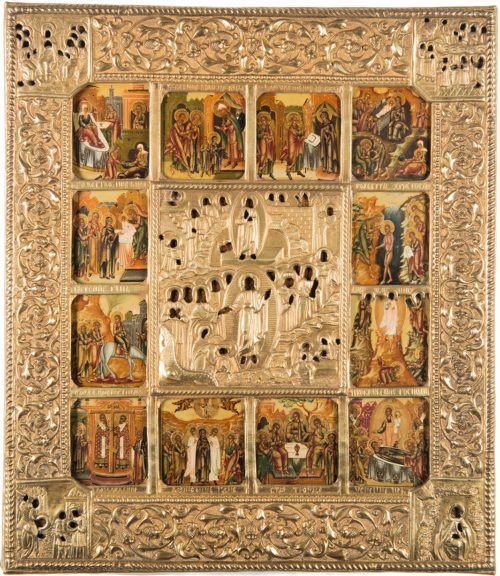 Russian Icon Book with a Rare Collection of Antique Icons
Icon painting is a very special art that requires great skills and spiritual effort from the iconographer. Nowadays, many Orthodox and art communities unite to preserve and promote this outstanding form of religious art. One of the greatest examples of such collaboration is the Russian Icon Book created by the Russian Icon Collection and the famous Moscow Museum of the Russian Icon. The unique book presents a collection of rare antique Russian icons dated to the 18th-19th centuries. Read on to take a closer look at pieces featured in this notable icon book. 
Russian Icon Book is a unique project by Russian Icon Collection and the Museum of the Russian Icon 
The book of rare Russian icons was created due to the long-term collaboration between our gallery and the Museum of the Russian Icon. The latter is one of the most significant art venues presenting over 5,000 pieces of Orthodox icons.
All icons featured in the book were properly studied and described by two prominent icon experts: Sergey Khodorkovskiy and Anna Ivannikova. They provided detailed descriptions of each religious piece included in the collection. On our website, you can find a digital version of the Russian Icon Book. However, we are pleased to announce that it will soon be available in print too. 
Russian icons presented in the book
Icons included in the book were created in the key iconographic centers of the Russian Empire. Among the highlights are a series of rare Orthodox icons "The Ressurection – The Harrowing of Hades," Menaion icons created in the Palekh iconographic center, and other notable works of Russian sacral art. A very special jewel of the Russian Icon Book collection is the Feodorovskaya icon of the Mother of God painted in the Vladimir iconographic center.
We should emphasize the high level of artistry and compositional iconography that make our icon collection meaningful and truly unique. You should particularly pay attention to the hagiographical icons of Saint Alexius – the Man of God and Saint Catherine, both distinguished by vivid artistry and amazing decorative elements.
The given icon collection of antique Russian icons is a perfect example of the stylistic reflection of the Imperial-period iconography. Icons featured in the book are of various styles and sizes: small icons for home chapel, images of patron saints, Menaion icons, and many more.
Russian Icon Book is indeed a unique project showing the beauty of Russian iconography. Be sure to check out a digital version of the book on our website!