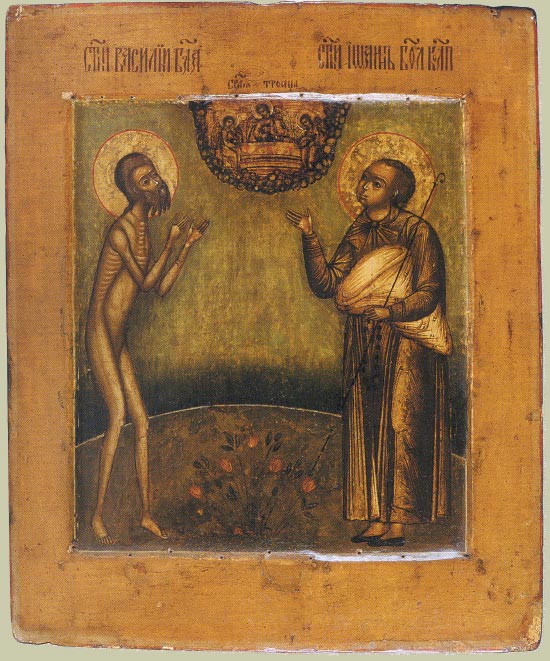 Orthodox Christianity Icons of Blessed Basil, Fool for Christ
The Russian iconography is rich in sacred icons devoted to the figures of Jesus Christ and the Mother of God. A good part of it features Orthodox saints, monasteries, and churches, as well as historical religious events. And only a handful of icons depict holy fools, also called yurodivy (in Russian). The foolishness for Christ is a major subject in Christianity, as those who became fools in the eyes of other people were an example of a peculiar and rare form of asceticism in Eastern Orthodoxy. Among all blessed fools known today, Basil the Blessed was probably one of the most famous. It is proven by the fact that you can find him in many Orthodox Christianity icons. What do we know about him?
Who was Basil the Blessed?
Basil the Blessed was the holy fool canonized as a Russian Orthodox saint. You can also meet his nickname Basil, Wonderworker of Moscow, as he went to the city at the age of sixteen. History has it that the boy was born to serfs at the portico of the Epiphany Cathedral at Yelokhovo in December 1568. Initially, he was an apprentice shoemaker, but things got different in Moscow when he adopted a lifestyle of a holy fool.
As depicted in almost all Orthodox Christianity icons with the saint, he wore rags or was completely naked. Basil was known for helping those in need and giving the stolen to the poor. After his death in either 1552 or 1557, he was buried in modern-day St. Basil's Cathedral, Moscow. In 1558, he was canonized, and the cathedral where his body lay was named after him. His feast day is August 2.
Orthodox Christianity icons of Basil, fool for Christ
Even though there are not so many Orthodox Christianity icons featuring the saint, their number is pretty big as compared to the icons of other holly fools. The main attributes of Basil the Blessed are his nakedness and posture. You can see his hands always stretching to the sky as if he addresses heaven, not people.
Some Orthodox Christianity icons depict Basil, a fool for Christ, against the background of Moscow. The connection between the two is indeed vital. Basil was believed to have a gift of prophecy. In 1547, the saint predicted the great fire of Moscow and later extinguished the fire in Novgorod with the help of prayer. There are also some holy relics left after Basil the Blessed. The chains that he used to weigh himself down are now preserved at the Moscow Theological Academy.