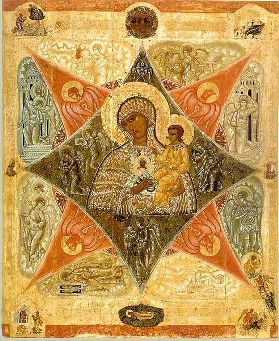 Marvelous Origin and Iconography of the Unburnt Bush Icon
The icon of the Mother of God of the Unburnt Bush, or the Burning Bush, has a unique story of origin going back to the days of early Christianity.
One day, Moses, who was at that time a shepherd, was herding sheep in the desert and suddenly saw a fire at a distance near the Mount Sinai (previously known as the Mount Horeb). Coming closer, Moses witnessed a miracle – a thorn bush was engulfed in flames, but did not burn down. Suddenly, the God Himself emerged from the fire and told Moses what to do to free the Israelites from Egyptian slavery. The most valuable thing about this conversation was that humanity received God's Covenant, the Ten Commandments, which are followed by millions of believers to this day. Soon, the phenomenon seen by Moses was called "The Unburnt Bush" and was imprinted on the first eponymous icon.
Today, the thorn tree is located on the territory of Saint Catherine's Monastery founded in the 4th century at the foot of the Mount Sinai, which pilgrims call the Mountain of Moses. The roots of the legendary bush are located right under the altar of the monastery's cathedral. Behind the altar, there is a chapel named "The Burning Bush."
The icon of the Mother of God of the Unburnt Bush, which is deeply revered by Orthodox Christians as one of the most divine icons of Russia, was created right at the foot of the Mount Sinai, about where the Prophet Moses noticed a burning bush. In 1390, Palestinian monks brought this sacred object to Russia. Nowadays, this treasured example of old Russian icons is kept in the Cathedral of the Annunciation in the Moscow Kremlin. The Unburnt Bush iconography was so widespread in Russia that these icons could also been found almost in every household.
The image of the Virgin Mary depicted in the icon has different versions, including the one showing the Holy Mother in a bright flame that burns but does not hurt her. Also, there is a variation where the Blessed Virgin is portrayed against the background of an octagonal star formed by two quadrangles with sharp concave edges. One of these quadrangles is painted green symbolizing the thorn tree, while the other is red representing the fire (pictured above).
In the most ancient Russian icons in history, you can see an almost literal depiction of the legend. Such variation of the Unburnt Bush icon includes a green thorn tree on fire and the Holy Virgin with Infant Jesus in her arms rising above it. Near the burning bush, there is the kneeling prophet Moses praying.
If you are a true appreciator of religious artworks or a professional collector, and you need expert-level advisory and management services or qualified restoration assistance, Russian Icon specialists will gladly help you out.