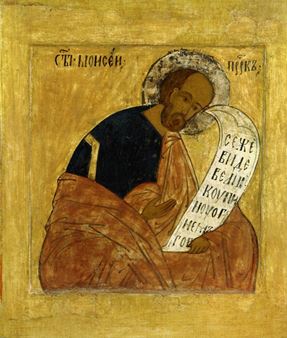 Russian Icons of Saint Moses, the Holy Prophet and God-Seer
Today, the Russian Orthodox Church celebrates the Feast of Saint Moses, the Holy Prophet and God-Seer. Born in Egypt in the 17th century B.C., from a marriage between Jochabed, the "daughter of Levi," and Abram, the "man of the tribe of Levi," Moses was one of the most important prophets in the Old Testament, who was sent to free the Israelites from slavery. Moreover, it is believed that Moses was the only one who saw God face to face before to deliver His Ten Commandments to humanity. His life and deeds are described in the Bible books of Exodus and Deuteronomy. It is no wonder that this great man of God is often depicted in Christian religious icons and Russian icons of saints in particular.
Where to find holy icons of St. Moses the Prophet?
Holy icons of St. Moses the Prophet can actually be found all over the world. However, some of the most important are kept in the church of the Ascension of Christ in Moscow and the church of the Icon of the Mother of God "The Joy of All Who Sorrow" in Chelyabinsk. Besides, these Russian icons depicting St. Moses are considered miracle-working. It is also worth noting that Russia is home to a rare fresco of St. Moses, which can be found in the church of the Elevation of the Venerable and Life-Giving Cross in the Yaroslavl region.
St. Moses icons description
Russian icons almost always depict St. Moses as an old, white-bearded man in half-length, wearing a mantle over his shoulders. However, there are also religious icons showing him as a younger man with short brown hair and beard. St. Moses is usually depicted holding tablets of the Ten Commandments in his one hand, which is a symbol of God's law, and with his other hand pointing out the need to comply with these laws.
When are St. Moses icons used for prayer?
Russian icons of St. Moses protect from enemies and various life problems, as well as from different emotional, mental, and spiritual difficulties. They can lead people to a spiritual transformation, showing the way to the true faith. Besides, St. Moses can heal us from our own imperfections and help cope with a series of failures.
Religious icon paintings depicting St. Moses are indeed very important and not only for Christian believers, but for Muslims and Jews too. After all, this holy prophet is considered the founder of religion and law.