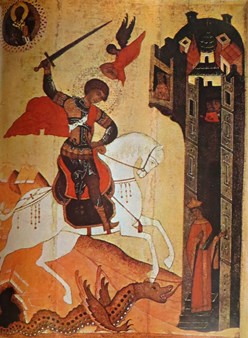 Schools of Russian Icon Painting. Part I
Though the religious icon art came to Kievan Rus' from Byzantium, Russian icons have always been distinguished by a special approach used in their painting. The fact is that the new homeland with its vast territories appeared to be a fertile ground for the development of its own religious icon art schools. For today, being an integral part of Eastern Orthodox iconography, the tradition of Russian icon painting with its characteristic themes, styles, and colors is known throughout the world. Moreover, antique Russian icons, as well as modern religious icons created by talented Russian iconographers, are considered masterpieces of religious icon art. So let's look at the most famous and influential schools of icon painting in Russia!
Pskov school
The school of Russian icon and mural painting in Pskov originated in the late XII century. However, its highest development it reached in the late XIV through the late XV centuries. Having been influenced by the history of the land, Pskov iconography has a strongly pronounced style, largely due to the predominance of emerald green, dark green, red, turbid blue, and almost black tones.
Novgorod school
Novgorod school of Russian icon painting officially appeared and gained the most popularity in the XIII century, but its history actually dates back to the XII century. The artistic language of Russian icon paintings of the Novgorod art school is simple, laconic, and clear. Its composition is usually based on the opposition of large shapes and bright colors.
Moscow school
Moscow school of icon painting reached its highest development in the XIV – XV centuries. Nevertheless, it is worth noting that Moscow religious icon art was already known back in the XII – XIII centuries, although antique Russian icons from that early period didn't survive. For today, Moscow icons are considered a pinnacle of ancient Russian art, and the flawless works by Andrei Rublev are a direct proof of that.
Palekh school
Palekh school of religious icon painting appeared as an independent movement in the late XVII century and reached the apogee of its popularity in the XIX century. For today, Palekh iconography is distinguished by a rather complex style of painting with a variety of stylistic features and composition details that are complemented by lots of dark and light elements.
Vladimir-Suzdal school
In the second half of the XII century, Vladimir and Suzdal became the main centers of the Eastern Orthodox iconography in the Middle Russian lands. The icon painting school that appeared at that time is distinguished by folk art motifs and harmonious combination of pink-greenish, grayish-purple, and silvery-blue colors.
These are the main and most important schools of icon painting in Russia. However, there are many other religious icon painting styles that are also worthy of your attention. Stay with us to learn more about them in our next article!