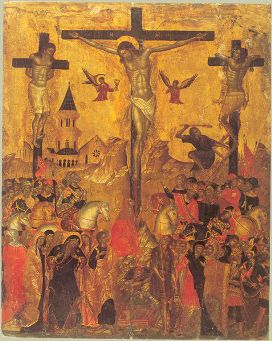 Icon of the Crucifixion: Symbolism & Iconography
The faithful learn the horrifying story of the crucifixion of the Son of God from the Bible. The crucifixion is described in detail in the Gospel telling that Jesus Christ was executed on Mount Calvary along with two thieves. The Virgin Mary, the Apostle John, and Mary Magdalene remained near the Savior. There also were Roman soldiers, high priests, and onlookers. Almost all of these characters are depicted in the icon of the Crucifixion, each playing a symbolic role.
Icon of the Crucifixion: Symbolism & Iconography
One of the most impressive Russian icons depicting the last moments of the Messiah's earthly life usually has a dark background. Some may associate this detail with a symbolic representation of the oppressive event, but in reality, it captures the actual events. After all, according to the Biblical record, when Christ was crucified, the daylight faded, which is reflected in the divine image. However, sometimes, the background of this sacred painting is diametrically opposite, performed in bright gold. Although the crucifixion is a brutal and sad happening, it is this redemptive feat that gives hope to all humankind.
The canonical icon of the Crucifixion, as a rule, includes many figures in addition to the main one – the Savior hanging on the Holy Cross. In the period of Early Christianity, in the 1st century AD, the Son of God was depicted with His eyes open, which symbolized immortality. In the Orthodox tradition, Jesus is portrayed with closed eyes, and the primary meaning of the Crucifixion icon is the salvation of the human race. The angels in the sky, mourning the loss of Messiah, symbolize His eternal life and divinity.
The Holy Mother and the Apostle John are always depicted in the icon of the Crucifixion, on both sides of the True Cross. Some later iconography examples also feature additional characters in the composition, such as Mary Magdalene, high priests, and soldiers.
Since the icon of the Crucifixion is listed among the most revered icons in Russia, it is not surprising that it has so many variations. For example, some versions depict the thieves crucified on both sides of Christ, who are called the penitent and the impenitent.
Another vital symbol is Golgotha, where our forefather Adam was buried. According to the legend, the blood from the body of the executed Jesus seeped through the earth and washed over Adam's bones. Thus, original sin was washed away from all humanity.