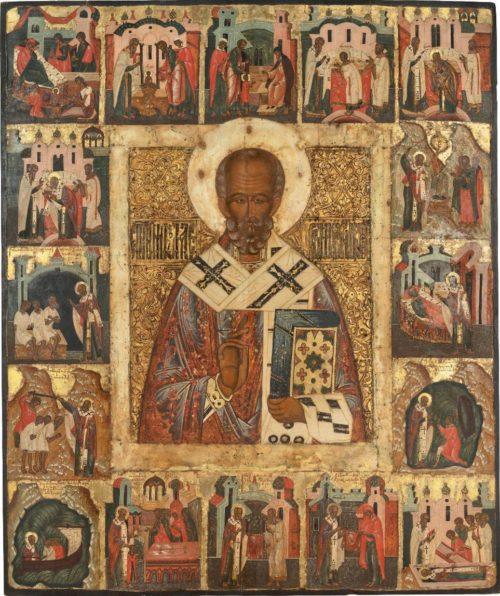 Icon of St Nicholas of Myra to Be Shown to the Public for the First Time
The Museum of the Russian Icon opens an exhibition featuring a single masterpiece – the 16th-century icon of St Nicholas of Myra (Velikoretsky) with a hagiographic cycle. The work will be on display from December 24, 2022, to March 21, 2023.
Sergey Khodorkovskiy bought the icon a few years ago. One could only assume that under a thick layer of aged oil varnish there was a much older painting. The collector trusted his gut and did the right thing. The restoration revealed a unique 16th-century piece of exceptional quality and preservation.
Despite the lack of information regarding the icon's origin, its iconography allows art historians to attribute it to the Pskov icon painting school. The name "Velikoretsky" points to a well-known icon discovered on the bank of the Velikaya River near the Velikoretsky village. During the reign of Ivan the Terrible, the icon gained enormous popularity and was frequently copied.
The icon from Sergey Khodorkovskiy's collection is different from the typical replicas of the Vyatka icon: it is larger than other Velikoretsky icons and includes sixteen hagiographic scenes – twice as many as the traditional copies.
"Being a collector is interesting because you study all your life and constantly discover something new for yourself. You can never say, that you've learned everything," commented Sergey Khodorkovskiy. "This means that you are always ready to take risks and make mistakes; on the other hand, it leaves space for a miracle, as in the case of the discovery of the icon of St Nicholas."
Icon of St Nicholas of Myra at the Museum of the Russian Icon
The exhibition is part of the project "Masterpieces of Ancient Russian Painting from the Collections of Russia," which showcases little-known monuments of Russian icon painting that have undergone restoration or have been in storage for a long time. The previous exhibitions took place in cooperation with public museums. This exhibit that features a gem from the private collection brings a new dimension to the project.
The private Museum of the Russian Icon was established in 2006 by the art patron Mikhail Abramov. After his tragic death in 2019, his family took care of the museum. The collection now numbers over 5,000 items. While its focus is on Russian icon painting, it also contains Greek icons, Early Christian and Byzantine icons from the 6th to the 14th centuries, and Ethiopian Christian relics.
"The new exhibition combines two areas that were close to the heart of the founder of the Museum of the Russian Icon, my son Mikhail Abramov, and serve as inspiration for us who continue his work," said Galina Abramova, Chairman of the Board of Trustees of the Mikhail Abramov Foundation. "The first area is studying and exhibiting works of ancient Russian painting worthy of being called masterpieces, although unknown to the general public. The second is the popularization of valuable artwork from private collections."
Photo courtesy of Sergey Khodorkovskiy