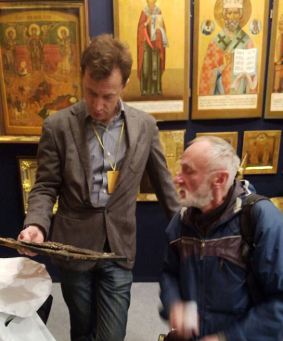 Sergey Khodorkovskiy: Russian Icons Art Expert & Collector
Whether you are buying or selling antique Russian icons, it is important to find a reliable expert in Russian icons art. Only a specialist in the field of icon appraisal, authentication, and attribution can evaluate the piece properly and help you get a good deal. One such specialist is Sergey Khodorkovskiy, and we are happy to work with this world-renowned expert.
Sergey Khodorkovskiy: Russian Icons Art Expert & Collector
Sergey Khodorkovskiy is a collector and one of the leading experts in Russian icons art. His own collection of antique icons has many museum-quality pieces that have been featured at a number of important exhibitions. These include unique Moscow icons "The Apparition of the Mother of God to St. Sergius of Radonezh" and the 17th-century "Virgin Hodegetria" distinguished by the unusual garments of the Christ Child, rare icons "The Ascension of Our Lord" and "Archangels Gabriel and Michael," and "The Resurrection of Lazarus" dated to the 17th century, among others.
Born in a family of famous Moscow antique dealers, Sergey Khodorkovskiy has been dealing with exceptional icons his whole life. His extensive knowledge and rich experience have made him one of the best experts in the field of Russian icons and iconography. Today, Khodorkovskiy collaborates with many art institutions, including the Museum of the Russian Icon in Moscow, and works on a range of private projects. In particular, Sergey Khodorkovskiy is the one who helped our Russian Icon Book come to be.
It is also important to note that Sergey Khodorkovskiy serves as an expert at TEFAF Maastricht, the world's premier international fair for fine art, antiques, and design. He is responsible for the selection and evaluation of icons, ensuring that only high-quality and authentic pieces are presented at the fair.
At Russian Icon, we are very proud to know and collaborate with Sergey Khodorkovskiy. He is a true expert and the best specialist to come for advice when it comes to the evaluation of antique Russian icons.