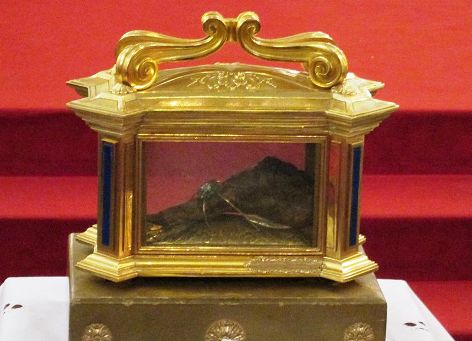 The History of St Teresa of Avila Relics
Highly revered and valued by faithful people, relics are remnants of saints and items associated with the religious and historical events, lives of the martyrs, prophets, and Jesus Christ. Usually, they are kept in exquisite containers called reliquaries. Relics play a significant role in the history and culture of every country and nation. For many, they are the embodied proof of the divine presence of God on Earth. The Christian world knows many revered Catholic relics, but in this blog post, we want to tell about St Teresa of Avila relics.
St Teresa of Avila Relics
Teresa of Avila occupies an exceptional place among Christian saints. She is the only woman awarded the degree of Doctor of Divinity on a par with the Fathers of the Church. The reason for this was her numerous writings on religious topics. In her works, she talked about the spiritual life of a person and the way people could become a better version of themselves. The most important among Teresa's writings is now considered her autobiography that gives us evidence of the spiritual path of this ascetic saint.
Teresa of Avila was a vital persona in the 16th-century Christianity, as evidenced by the enormous popularity of St Teresa of Avila relics among the faithful. A Spanish nun and later a Roman Catholic saint, she was the reformer of the Carmelite Order and was worshipped by lots of believers, especially after her death and beatification. Teresa's hand was mummified and used as a symbol of her ideals and religious holiness, becoming a deeply venerated Catholic relic.
It is interesting that many years after her death, St Teresa of Avila relics were used by the Spanish general and politician Francisco Franco as a powerful tool for his dictatorship. Franco carried Teresa of Avila's hand all around with him, not leaving it even during sleep. When he passed away, the hand was found in his arms.
In the saint's hometown, Avila, there is St. Teresa's Monastery that is considered one of the main places of pilgrimage for Catholics in Spain. This religious institute was erected in the 17th century after St. Teresa's canonization. Since the monastery is still functioning today, pilgrims and tourists can visit only the chapel that houses St Teresa of Avila relics and those of her companion and follower, John of the Cross. Here you can also see the rosary and sandals of Teresa of Avila, and several other venerated relics.
Photo credit: Wikimedia Commons User Fraxinus Croat / CC BY-SA 3.0