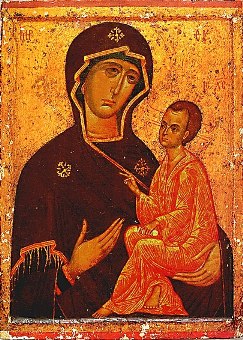 History and Theological Idea of the Hodegetria Icon
The Mother of God has always been the faithful protector of the Orthodox believers, so it is not surprising that there are so many old Russian icons with her image. One of the most beloved and venerated by all pious Christians is the renowned Hodegetria icon.
The Church tradition tells us that the first image of the Blessed Mother with the infant Christ was created by the Holy Apostle and Evangelist Luke himself. In the mid-5th century, this miraculous image was moved from Jerusalem to Constantinople and placed in the Hodegon Monastery, hence its name – Hodegetria icon. Unfortunately, in 1453, the priceless image, along with many other monastery icons, was destroyed by the Ottoman Turks during the assault on the city.
It is interesting that according to the legend, there was a mysterious spring with magical water next to the Hodegon Monastery in Constantinople, which was able to heal the blind. The nuns took care of the sick coming to the wonderworking spring. Those who led the blind toward the well were called "hodegoi," and the place itself was called "ton Odegon," which can be translated from the Greek as "the area of guides." Thus, the Hodegetria icon, or as it is also known the Virgin Hodegetria, gets another more profound meaning: the Holy Mother serves as a guide to the righteous people, helping them find the path to God and protecting them from the hardships along the way.
Theological idea of the Hodegetria Icon
The primary theological idea of this wondrous piece of Russian icons art is the coming of the Savior and His incarnation for the salvation of mankind. In the icon, the infant Jesus represents the Heavenly King who will bring the Divine Justice to each one of humanity. His right hand is raised in a blessing gesture. As for the Mother of God, her right hand is pointing to the Messiah, to whom the thoughts and prayers of the believers should be addressed. She is depicted as if saying, "Here He is; this is the Way."
Today, there are many famous copies of the original icon of Hodegetria around the world. These include the Tikhvin Mother of God, the Iver Mother of God, Our Lady of Kazan, the Smolenskaya Mother of God, and the Mother of God "Of the Three Hands," among others. While the original image has been altered a bit over the time, it is still one of the most important and venerated in the entire Christian world.