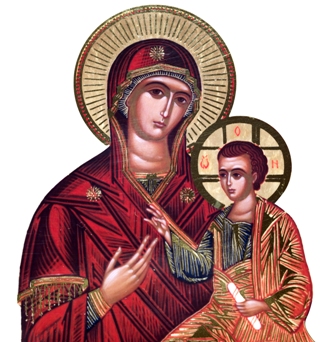 The Virgin Hodegetria Icon: Its Creation and Description
Russian icon art includes numerous "celestial" works of art and follows certain rules regarding their creation and application. Thus, a Russian iconostasis traditionally consists of the icons of evangelists, martyrs, Twelve Great Feasts, Old Testament Saints, and, certainly, icons of Jesus Christ and the Mother of God. One of the most revered iconographic depictions of the Mother of God is the Virgin Hodegetria, which represents an image of the Blessed Virgin with Infant Jesus.
According to the legend, Luke the Evangelist – a disciple and companion of St. Paul the Apostle – created the first icon of the Virgin. He depicted Our Lady during her lifetime at the request of Theophilus of Antioch. Also, this icon originally contained a particle of the Mother of God's riza.
Thereafter, the Virgin Hodegetria icon traveled from Antioch to Jerusalem, from where the Byzantine Empress Eudoxia moved it to Constantinople. The first Hodegetria icon was placed in the Church of St. Mary of Blachernae. This event gave origin to its other name – the Blachernitissa.
As for the origin of the word Hodegetria, there are three main versions:
The Virgin icon was moved from the Church of St. Mary of Blachernae to the Hodegon Monastery where it was kept for a long time. The name of one of the most venerated icons of Russia was thus derived from that location.
Another legend says that Our Lady appeared before two blind men and miraculously led them to the Blachernae Church. Having seen her icon, they immediately regained their sight, while the image of the Madonna since then has been referred to as the Virgin Hodegetria, meaning "immaculate guide."
The third version holds that Constantine the Great blessed his daughter Anna with one of the versions of this icon. She was marrying Vladimir the Great and had to go to the Russian lands. Her journey was long and difficult, and only because of this miraculous image, Anna was able to get to her future husband.
Today, there are many variations of this wonderworking Russian icon, but in Russia, the Virgin Hodegetria of Smolensk is specifically worshiped. Besides, the Blessed Virgin icon served as a source of inspiration for other famous images of Our Lady, such as the Burning Bush icon. Traditionally, Russian icons of this type depict Infant Christ in Madonna's hands. Jesus' right hand is painted in a blessing gesture, while in His left hand, He often holds a book or scroll. The Mother of God is depicted half-length, with her right hand pointing to Jesus Christ as the source of salvation for humankind.
The Virgin Hodegetria is one of the oldest and the most valued icons in Christianity. If you are an avid icon collector fond of religious art pieces or need qualified advisory on the related topics, Russian Icon specialists will gladly provide you with everything you need.