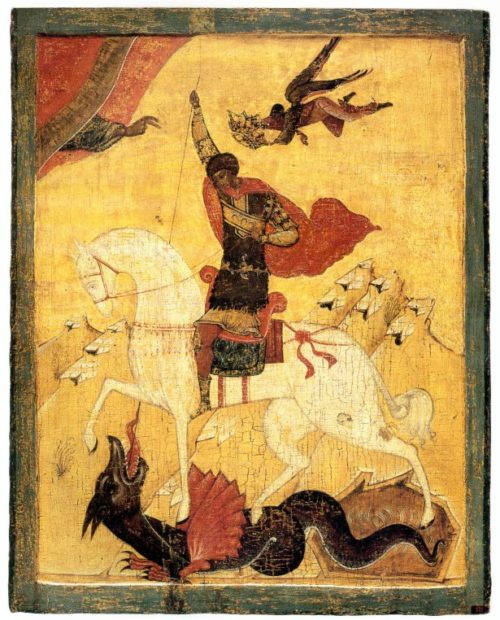 Famous Religious Icons of St. George: Main Types and Features
Orthodox iconography features several examples of saints depicted as soldiers fighting for the Christian faith and defeating evil. Perhaps, the most famous image is St. George the Victorious. On November 23, Orthodox believers commemorate his martyrdom and honor his feats and deeds. Famous religious icons of St. George can be divided into several types, each with its specific features.
Famous religious icons of St. George
St. George the Victorious was a Christian saint and Roman warrior. During the persecution of Christians, he was martyred for his faith in Jesus Christ. In iconography and fine art, St. George is usually depicted as a warrior riding a horse and battling evil forces. The latter are most often shown in the form of a dragon or serpent.
Famous religious icons of St. George the Victorious are divided into the following types.
Wearing armor and with weapons
Without armor
Dragon slayer
Wearing armor
This type of Orthodox icons depicts St. George as he stands, wearing Roman armor and holding a weapon in his hands – a spear. He is often depicted alongside other saints, such as the patron saints of matrimony Samon, Habib, and Gurias, the prophetess Anna, and the nun Eudocia. The icon also shows Christ, who is seen in the sky, blessing all Christians.
Without armor
Icons of St. George with no armor are not very popular in Orthodox iconography. They show the saint standing alone or with other saints, wearing a mantle and unarmed.
Dragon slayer
Famous religious icons of this type are often displayed in Orthodox churches and monasteries. They depict St. George the Victorious on horseback, wearing armor and with a spear in his hand. With the weapon, he slays the dragon that is on the ground under the feet of the horse.
Since early Christian times, the image of the serpent or dragon has been a symbol of evil, treachery, and the prince of darkness himself. The icon's composition shows the eternal battle between good and evil. St. George represents a messenger of the Lord: he effortlessly plunges a spear into the body of the dragon, saddles a white horse (a reference to purity and holiness), and has a shield with the image of the sun, which is a symbol of Jesus Christ.
Icons of St. George are indeed highly revered shrines that carry profound meaning.