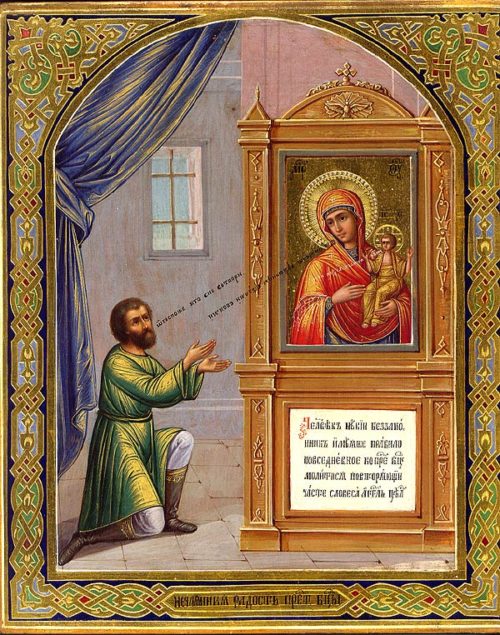 Eastern Orthodox Icon of the "Unexpected Joy"
On December 22, the Orthodox Church celebrates the feast of the antique Mother of God icon of the "Unexpected Joy." This image, which is considered miraculous, has numerous copies kept and displayed in many Christian churches and monasteries. The Eastern Orthodox icon of the "Unexpected Joy" is associated with a legend written by Dimitri Rostovsky in the 18th century. Read about the history of the shrine and its iconographic features in this blog post.
The history of the Eastern Orthodox icon of the "Unexpected Joy"
The image of the Mother of God with the Child is based on the story of a man who prayed with the Mother of God icon quite often but still committed sins. One day, before the prayer, the icon miraculously came to life, and the man saw bleeding wounds on the body of Jesus Christ. Terrified, he fell to his knees and asked the Virgin who did this to the Son of God. She said it was the result of the sinners' deeds. By hearing this, the man started praying for mercy. After Our Lady asked Christ twice to forgive the sins of the praying man, He agreed. The man kissed Jesus' wounds and felt joyful, knowing all his sins were forgiven. According to tradition, after that event, the man began to live a righteous life. This is how the Eastern Orthodox icon got its name of the "Unexpected Joy."
Iconography and meaning
This image of the Mother of God belongs to the Hodegetria type. It depicts the Virgin Mary holding the Child Christ in her arms. Besides them, the icon shows a man kneeling and asking for atonement for his sins. The body of Jesus is covered with bleeding wounds. The Virgin Mary extends her hand toward Christ as a way to salvation. They both look at the sinner, but their gazes are not condemning but rather calm and loving.
The Eastern Orthodox icon of the "Unexpected Joy" is one of the most revered and beloved shrines in the Orthodox world. It recalls the sacrifice of the Savior on the cross, who suffered for the sins of humankind. People who pray to God for salvation should perform more righteous acts than sinful ones. The icon shows the way wicked deeds bring suffering to the Son of God. Of course, the icon plot is metaphorical and figurative. However, its symbolic meaning makes the shrine significant for every Orthodox Christian.
Do not miss our new blog posts to be the first to learn interesting information about Christian icons and revered saints!