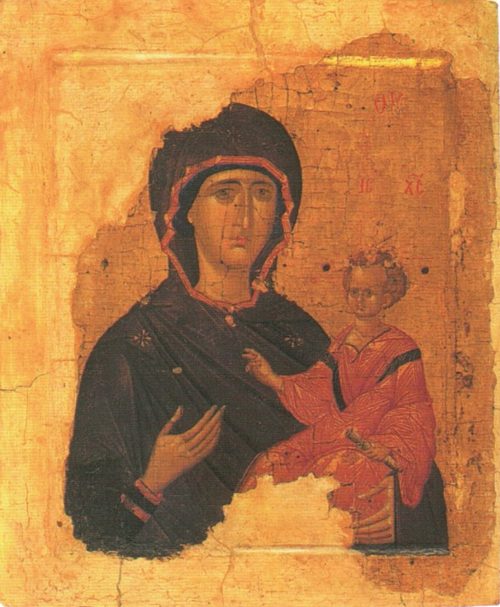 Everything You Should Know about the Hodegetria Icon
The icons painted by Luke the Evangelist are the first in Christian history. One of them is the Hodegetria icon that depicts the Virgin Mary with the Christ Child sitting on her lap. This type of Mother of God icon belongs to the oldest and most popular images in the Orthodox Church. Read about the icon origin and its features in our today's blog post.
'Hodegetria' term origin
'Hodegetria' comes from the Greek word "hodegos," which means "guide." According to the legend, the Theotokos appeared to two blind people and guided them to the Monastery of the Panagia Hodegetria where she restored their vision. Thus, the icon acquired its name. Unfortunately, the original icon was destroyed during the war between Byzantium and the Ottoman Empire. However, the iconographic style has been preserved to the present day thanks to many icon copies.
The Hodegetria icon: description and meaning
The Hodegetria icon depicts the Child Jesus. He sits in His mother's lap, blessing with His right hand and holding a scroll with His left hand. Some icons show Him holding a book instead of a scroll, similar to the images of Christ Pantocrator. The Virgin is shown in a solemn pose, with her hand pointing to Christ as the Savior of all humanity. The main meaning of this image is the arrival of the Heavenly Judge into the earthly world and the worship of the Son of God.
This iconographic type includes the following icons of the Blessed Virgin Mary:
The Iveron icon of the Mother of God
The Smolensk icon of the Mother of God
The Kazan icon of the Mother of God
Three-Handed Mother of God
What does the Hodegetria Mother of God help with?
The Hodegetria icon is considered a wonderworking image that can help the faithful fulfill their requests. You can pray with the icon of Our Lady for the following:
peace in the homeland;
resolution of conflicts in the family and at work;
health strengthening of the soldiers;
travelers assistance;
curing illnesses.
The Hodegetria is a widely popular icon in Orthodox countries. Many copies of this miraculous image are kept in monasteries, temples, and churches. Perhaps, the most famous one is the Smolensk Mother of God. It was once kept in Smolensk from where it got its name. Before getting there, the icon appeared in different cities of the world: Antioch, Jerusalem, Constantinople. Unfortunately, after the Great Patriotic War, it disappeared without a trace.