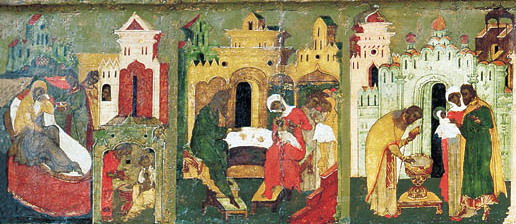 Eastern Icons of Saints Cyril and Maria
Every Orthodox believer knows about St. Sergius of Radonezh, a saint who performed miracles and preached the word of God. However, this article will focus on his parents, St. Cyril and St. Maria. We will describe their lifestyle and the way they are depicted on Eastern icons. Today, the Orthodox Church celebrates the feast day of these saints.
Who were Cyril and Maria?
It is known that Saints Cyril and Maria belonged to a noble boyar family and led a righteous life. According to ancient Rostov legends, the boyar Cyril was descended from the old Simonovich family, whose ancestor was one of the descendants of the Varangian prince Afrikan – Simon. At the beginning of the 14th century, they had an estate in the village of Varnitsa, not far from Rostov the Great. Cyril was in the service of the Rostov princes, whom he repeatedly accompanied in battles with the Golden Horde.
Saints Cyril and Maria had a simple peasant life. Bartholomew, the future Venerable Sergius of Radonezh, was the second son of Cyril and Maria. Before he was born, a miracle occurred, which indicated that he would be a great saint and a true servant of the Christian Church. According to tradition, the baby Bartholomew's cry burst out of Mary's womb three times during the liturgy. Afterward, the parents realized that this was a divine sign.
At the end of their lives, the venerable Cyril and Maria took monastic vows and spent their last days in unceasing prayer. The canonization of the saints took place in 1992.
Eastern icons of Saint Cyril and Saint Maria: specific features
Since St. Cyril and St. Maria took the schema (a vow to observe strict monastic rules) during their lifetime, Eastern icons depict them wearing monastic vestments, with halos over their heads. Typically, iconographers portray them together or with St. Sergius of Radonezh. There is also an Orthodox icon of the Venerable Maria where she is depicted alone.
Hagiographic icons show the major moments from the saints' lives, including their deaths. There is an icon featuring the ascetics lying in a coffin, with the Venerable Saint Sergius standing over them.
Eastern icons of Cyril and Maria are in high esteem among Orthodox believers. Their holiness is confirmed by numerous miracles and healings of people in prayer.
The commemoration of St. Cyril and St. Maria is celebrated on September 28 (October 11) and January 18 (January 31).