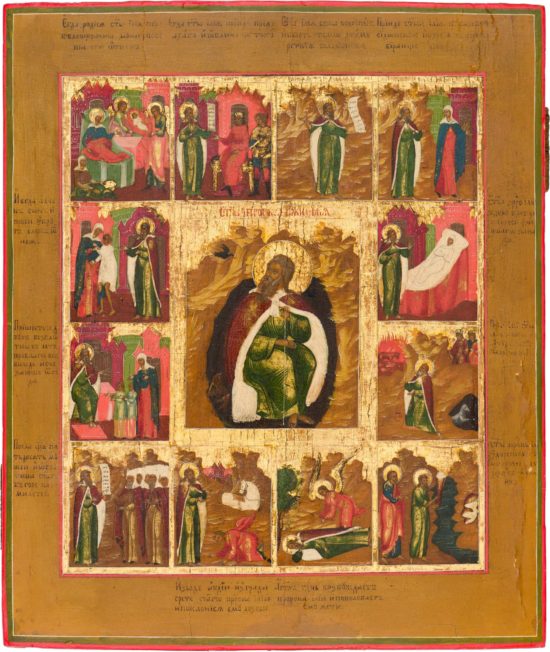 Antique Russian Icon of the Prophet Elias in the Desert
The featured icon of the Prophet Elias is a great piece of Russian religious art. It represents the tradition observed throughout many centuries but also displays specific features that were common for 19th-century icon paintings. The icon depicts the life of the Prophet Elias who was an incredibly respected saint among Russian Orthodox believers. This piece is quite well preserved despite its age. The icon can be referred to as hagiographical because it describes the events that happened during the life of the saint.
The hagiographical icon of the Prophet Elias
The given antique icon of the Prophet Elias depicts one of the most important saints for the Russian Orthodox Christians. He is said to have lived in the 9th century BC when Kings Ahab and Ahaziah of Israel ruled. This specific religious image is based on the story of the saint's life as told by the Old Testament and apocryphal literature. The name Elias means "Yahweh is my Lord" in Hebrew.
The tradition of Russian Orthodox icons depicting Elias goes back as far as the 13th century. The popularity of such icons hit its peak in the 17th century in the Volga region. Elias was one of the most revered saints and was believed to have the ability to control nature and heal. Churches to honor the Prophet were built in the Russian cities of Yaroslavl and Kostroma.
The centerpiece of the icon of the Prophet Elias features the scene titled "Prophet Elias in the Desert." The raven that miraculously fed Elias is depicted in the left corner of the central image. This episode is often seen as a representation of a perfect monastic lifestyle.
The surrounding border scenes can be seen as quite common for icons of this type. They tell the life of the Prophet, from his birth ("The Nativity of the Prophet Elias") to the crossing of the Jordan River by Elias and Elisha ("Prophets Elias and Elisha cross the Jordan"). This icon also features a rather rare scene depicting Avdius who saved Elias from being killed by King Ahab.
The subtle color scheme and the manner in which the gold hatching is done point to the fact that this piece was most likely painted by one of the Guslitsy masters in the middle of the 19th century.