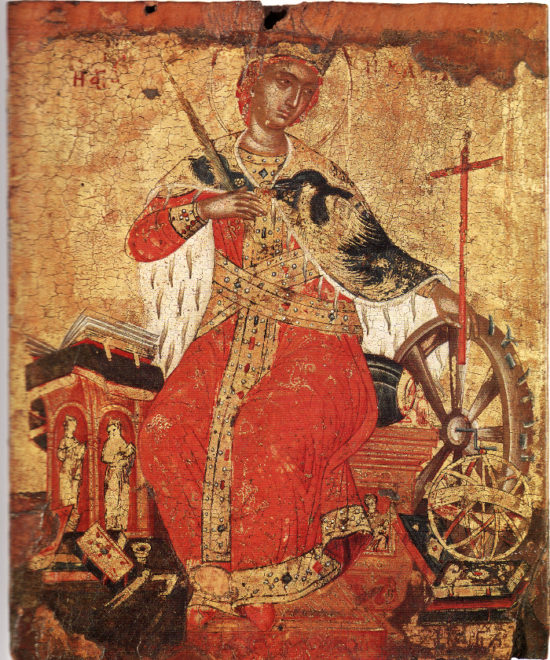 Antique Icon of Saint Catherine of Alexandria Enthroned
The antique icon of Saint Catherine of Alexandria Enthroned is a wonderful example of Greek iconography of the 17th century. It combines the coloristic tradition of Greek and Cretan icon painters and compositional decisions and narrative characteristics that were common to Western European art. The interest of Greek iconographers in attributes characterizing the life of the saint was inspired by German and Flemish etchings.
Hagiography of the Holy Great Martyress Catherine 
The Holy Great Martyress Catherine belonged to a noble family of Alexandria and was distinguished by her scholarship, humility, and beauty. She studied the works of ancient writers, philosophers, and doctors. After the Syrian monk converted her to Christianity, the saint refrained from secular marriage, devoting herself to the defense of her faith. Catherine is also known as the Bride of Christ because, according to the legend, she received an engagement ring from Christ in her dream.
The saint remained faithful to Christ even when she was tortured. One of the special attributes of her iconography is a wheel with metal spikes. It was one of the instruments used by Emperor Maximinus to torment the girl. However, wheels fixed to one axis were destroyed by the angel who came down from heaven.
When the girl was executed on the scaffold, the milk poured from her wound instead of blood.
Antique icon of Saint Catherine of Alexandria Enthroned
The antique icon of Saint Catherine of Alexandria Enthroned represents the iconography type where the saint is depicted in full length, sitting on a throne. The figure of Catherine is in the center of the composition. Her head and shoulders are turned in three quarters; she looks down. All details in this icon tell us about the royal and noble origin of the saint. Her dress in cinnabar color is richly decorated; a cloak on her shoulders is woven with gold and lined with ermine. Clothes and furniture depicted in the icon appeal to Venetian designs.
The saint holds the crucifixion in her left hand and the palm tree in her right hand. This element symbolizes her martyrdom. Saint Catherine is surrounded by allegorical symbols,  the evidence of her scholarship. There are books, a compass, and an armillary sphere. On the right side, there is a lectern with Holy Scripture; the wheel is depicted on the left side.
The composition and colors of this antique icon resemble works by the Greek icon painter known as Master Victor. Similar images were quite popular in Greece in the 17th century and were distinguished by the high quality of the painting technique. The antique icon of Saint Catherine of Alexandria Enthroned remains an excellent and valuable example of icon painting of the time.