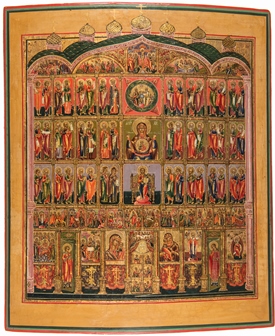 7 Things to Consider When Buying Hand-Painted Icons
Hand-painted icons are increasingly popular with art collectors from all over the world. Moreover, this applies to both modern religious icons and antique icons created centuries ago, though the latter certainly enjoy the most popularity. This is particularly confirmed by the impressive results of many auctions held by Sotheby's, Doyle, Shapiro Auctions, Bruun Rasmussen, and other reputable auction houses. However, if you are new to collecting hand-painted icons, you may find yourself confused when choosing the right piece for your collection. There are actually so many things you should know about religious icons, starting from their symbolic meaning to iconographic schools. Plus, no matter whether you are buying hand-painted icons online or in specialized stores, you should always take into consideration their quality, provenance, and several other specific criteria:
Obviously, one of the most important things is the quality of the chosen icon, so pay your attention to every little detail, from the brush strokes to the pigments used in painting.
Keep in mind that the history of the religious icon is also a very important factor. Moreover, an icon that once belonged to royalty or was exhibited in a museum is always a good investment.
Antique Russian icons come from different iconographic regions, which directly affects their value. For example, icons painted in Palekh are usually more valuable than those created in lesser-known regions.
While it is always better to choose an icon in good condition, keep in mind that restoration works can significantly reduce its value. For this reason, it won't be superfluous to consult a professional before buying such a piece.
Some hand-painted icons, images, and scenes are rarer and, therefore, more valuable than others, so if you have a chance to buy such an icon, do it without hesitation.
It is needless to say that an antique icon from the 16th century is a better purchase than an icon from the early 20th century. However, there are exceptions, so if you have any doubts, look for specialist advisory help.
Finally, pay your attention to the decoration of the chosen item. Hand-painted icons with decorative covers made of silver and adorned with semi-precious stones are more valuable for obvious reasons.
Hopefully, the above information will help you choose a high-quality religious icon for your collection. If you have any questions or need a consultation, do not hesitate to contact Russian Icon. We are always ready to help!